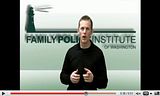 I'm not much into people with negative personalities, but I realize that several man-centric readers have expressed an appreciation for Joseph Backholm's look and twinkitude. Thus I feel it only fair to inform you that he's got a new video up inviting folks to "poke around". I'm sure it is entirely coincidental that he also is featuring a "report" on porn on Family Policy Institute of Washington's main page. No indication yet whether he uses the Peter LaBarbera method of field research, but he did muse aloud about his little buddy Russel Johnson's ability to keep his own wife satisfied (Dec. 9 podcast).
Oh btw, not only has Backholm swapped the gray button-down blouse he wore in his most recent videos for an all-black ensemble, but he has deleted those videos. Guess he caved to the criticisms leveled here and at the SLOG.
Anyhow, good thing I kept some screen shots so you can compare his new look and decide which you like better! They're after the fold.
Related: Joseph Backholm answers the straw man's question