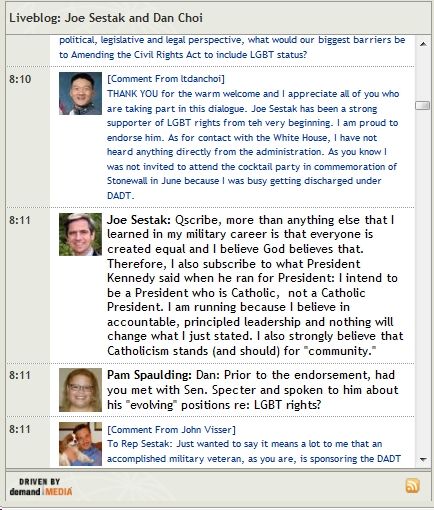 (NOTE: The liveblog was great, with Dan Choi and Joe Sestak taking a variety of questions on LGBT issues, health care and the military. You can see the replay of the liveblog here or by clicking the image at left.)
The above link will also be available after the event for replay.
Dan and Rep Sestak had statements they wanted to share with Blenders in advance of the liveblog…
---
Dan Choi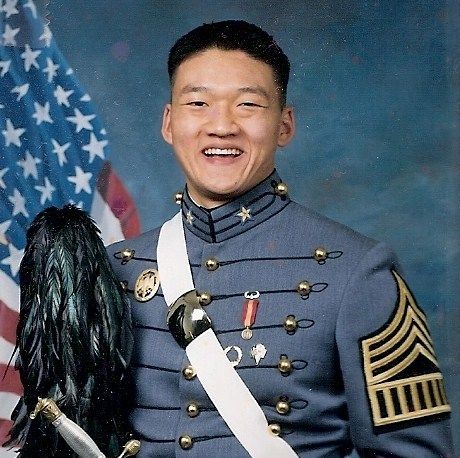 Lieutenant Dan Choi graduated West Point in 2003. He is an Iraq combat veteran, Infantry officer, and fluent Arabic speaker. Choi is the co-founder of Knights Out, a group of gay and lesbian West Point grads and their allies. He has been recommended for discharge after coming out publicly as gay earlier this year.
The latest news on the DADT front is Rep. Alcee Hastings's bill to protect gay service members who reveal their orientation during congressional testimony. This bill gets to the heart of our movement's values: honor and integrity. From day one, Knights Out and I have been speaking out about the importance of truth-telling.

The bill itself is points out the absurdity of the law and the hearings themselves- if we can't hear from the servicemembers directly, then are we getting the info we need? DADT is impairing the military and now it is impairing the Senate, disabling them from getting the truth. I agree with the bill in theory AND in practice, because any action based on fears of consequences for coming out of the closet perpetuates the spirit of DADT and why it is so toxic at its core.

Meanwhile, we continue to push for Congress to act on the President's clear intention to end the policy. That's why I'm working with people like Senator Kirsten Gillibrand, Congressmen Patrick Murphy, Alcee Hastings, and Joe Sestak, who understand what's at stake. We must keep our Army and the rest of our military strong, and DADT weakens our forces at the core. I am looking forward to chatting with Blenders about our ongoing work to get rid of this policy, and to educate Americans, especially servicemembers, that gays and lesbians can serve both openly and honorably.
Rep. Joe Sestak
Joe Sestak was elected to Congress in 2006 after a distinguished 31-year career in the United States Navy, and he is honored to represent the Southeastern Pennsylvania district where he was born and raised. He is a Democratic candidate for the U.S. Senate seat from Pennsylvania. During his Navy career, Joe attained the rank of 3-star Admiral, served in the White House as Director for Defense Policy on President Clinton's National Security Council, served in the Pentagon as Deputy Chief of Naval Operations, and led a series of operational commands at sea, culminating in command of the USS George Washington Aircraft Carrier Battle Group (30 ships, 100 aircraft, and 15,000 sailors/marines/ aviators/SEALs) during combat operations in Afghanistan and Iraq.
In our nation's time of crisis in the immediate aftermath of 9/11, the Navy turned to Joe Sestak to serve as the first Director of "Deep Blue," the Navy anti-terrorism unit formed in response to the attacks. Joe is the highest-ranking former military officer ever elected to either branch of Congress. He graduated second in his class from the U.S. Naval Academy and holds a Master's in Public Administration and a PhD in Political Economy and Government from Harvard University.
Joe lives in Delaware County, Pennsylvania, with his wife, Susan, and daughter, Alex, and proudly represents the 7th District, where his mother and many of his eight siblings still reside.
"Dan's said before and I agree that ['Don't Ask, Don't Tell'] asks people to live a lie. It diminishes their service. The military is supposed to value integrity and honesty. I remember what Dan said on the 'Rachel Maddow Show:' 'I love the Army.' Here's someone who loved the service and wasn't down on the institution at all, even though he couldn't be a part of it. He loved it and wanted to be, as the Army slogan says, all he could be. Without that important thread of the gay community, our military can't be all we can be. It isn't healthy for us to go forward like this.
When Sestak was endorsed by Dan and Barney Frank, they had this to say at the news conference:
U.S. Rep. Joe Sestak (D-7th Dist.), who is hoping to unseat longtime incumbent U.S. Sen. Arlen Specter (D) in the spring primary, received two endorsements this week from national LGBT-rights advocates.

On Monday, openly gay U.S. Rep. Barney Frank (D-Mass.) and former Army Lt. Dan Choi, who is being discharged from the military under its "Don't Ask, Don't Tell" policy, came out in support of Sestak in Philadelphia.

…Frank called Sestak a "true Democrat" and referred to Specter, who left the Republican Party in April to become a Democrat, a "Republican by choice and Democrat by necessity."

…"That was the day before I had to go before the Discharge Board, so I was really on an emotional rollercoaster and once we met, the Congressman was one of the first people to really go out there and collect support for me. He wrote a statement for me to give to the board and since then has been such a vocal supporter," Choi said.

Sestak, the highest-ranking veteran ever elected to Congress, has written letters to President Obama and Speaker of the House Nancy Pelosi, urging them to take action on the repeal of "Don't Ask, Don't Tell" and recently pressed for an investigation of torture claims by a discharged gay vet.
The Congressman's legislative record on LGBT issues:
Co-Sponsor Of The Domestic Partnership Benefits Obligations Act
Co-Sponsor Of The Tax Equity For Health Plan Beneficiaries Act
Co-Sponsor Of The Family Medical Leave Inclusion Act
Original Co-Sponsor Of The Employment Nondiscrimination Act
Co-Sponsor Of Legislation To Repeal The Military's Don't Ask, Don't Tell Policy And Published Op-Ed In Philadelphia Inquirer (July 13)
Supports Repeal Of The Defense Of Marriage Act (Doma)
Co-Sponsor Of The Local Law Enforcement Hate Crimes Prevention Act
Below the fold, the letter Rep. Sestak sent to Speaker Pelosi.
The Honorable Nancy Pelosi
Speaker
H-232 U.S. Capitol Building
Washington, DC 20515-6501

Dear Madam Speaker,

As a supporter of equal rights for the Lesbian, Gay, Bisexual and Transgender (LGBT) community, I urge you to bring the Respect for Marriage Act– which would repeal the Defense of Marriage Act– to the House floor for a vote.

Since its passage in 1996, the Defense of Marriage Act has discriminated against LGBT Americans by excluding federal benefits from same-sex partners who have been legally married in states that recognize their marriage. As a result, married LGBT couples are not provided equal treatment under the law. Specifically, they are prevented from filing joint tax returns; receiving spousal, parental or surviving spouse benefits under social security; taking unpaid leave to care for a sick or injured partner; or receiving the same retirement benefits as heterosexual couples. Since 1996, eight states and the District of Columbia have granted same-sex couples equal access to state programs, but those couples remain excluded from the same rights under federal law.

By repealing DOMA, the Respect for Marriage Act would require federal recognition of marriages that are valid under the law of the state where performed. This will ensure a uniform national policy by guaranteeing eligibility for federal protections and obligations, no matter a couple's current state of residence. DOMA's repeal provides certainty to families by allowing them to plan for a future of mutual obligation and support with confidence that their access to Federal responsibilities and rights will not be taken away.

The Respect for Marriage Act does not require a state to recognize a valid marriage performed by a sister state, and nothing in the Act obligates any person, religious organization, locality or state to license a marriage between two persons of the same sex. Instead, it only creates a standard federal guideline.

As you know too well– having voted against DOMA in 1996– there is strong support for repealing the Act. President Obama and other leaders in Congress have called for DOMA's repeal. We now have the chance to act on that belief.

While commanding men and women in harm's way during my 31 years in the Navy, we knew, because of public surveys, that a certain percentage were lesbian and gay service members. Having seen their dedication, their allegiance, and their sacrifices, how can I – or anyone- not say that these individuals deserve equal rights when they return home? Passing the Respect for Marriage Act will restore fairness to the LGBT community and ensure equal justice under law.

Thank you in advance for your attention to this matter. I look forward to working with you on the Respect for Marriage Act and restoring equal rights to all Americans.

Warmly,

Joe Sestak
Member of Congress