NC: pro-equality U.S. Senate candidate Kenneth Lewis – The Blend interview
NOTE: Bumped up since it's an exclusive.
---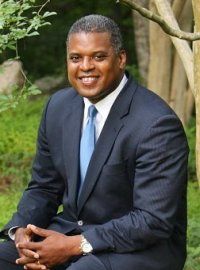 I was surprised to receive a phone call from the Kenneth Lewis campaign a couple of weeks ago; I knew a few things about the Durham attorney, who has jumped into the U.S. Senate race to dislodge Richard "Bank Run" Burr from his seat — 1) he has little name recognition; 2) he has not held public office before and 3) he has worked behind the scenes in politics for a long time, fundraising and organizing on several campaigns, including the U.S. Senate campaigns of Harvey Gantt and Erskine Bowles. In 2008, he was part of the finance team in North Carolina for the Obama campaign.
Why was I surprised? Well, back in 2008, when Elizabeth Dole faced off against now-Senator Kay Hagan, LGBT media and bloggers were on the Do Not Call list of the Hagan campaign. The word on the street was that Hagan was told not to answer how she might vote on equality legislation – Don't Ask, Don't Tell repeal, the Employment Non-Discrimination Act, etc. She certainly avoided my very specific questions on a BlueNC liveblog, or in followup. Someone thought answering these questions would jeopardize her election in North Carolina — Hagan won because she had Barack Obama's coattails and an inept Dole campaign that thought associating Hagan with atheists was going to resonate with voters. Sigh – it's apparent that those political brainiacs weren't from this area either.
So with that memory in mind, to my shock the phone call led to an interview with candidate Lewis a few days ago. And it occurred just as the news was breaking that former State Senator Cal Cunningham (RCP interview here), who was on and off again about tossing his hat into the primary, decided to join Lewis and Secretary of State Elaine Marshall. All three are very different choices for NC Democrats; what they have in common is a more progressive viewpoint, certainly to the left of Hagan — and light years away from Sen. Burr.
"Richard Burr, policies and the values he represents doesn't represent the vast number of North Carolinians," Lewis said. While Burr, who opposed the President's stimulus bill made a hypocritical *ss of himself not long ago as he took credit for stimulus funds brought into the state.
Burr was on hand on Friday to present the Bethlehem, N.C., fire department with a grant for $2 million to build a new fire station. Burr called the grant a "great thing" for the area.

"We're not accustomed to federal dollars in that magnitude finding their way to North Carolina," Burr said, according to a local newspaper.

The grant, according to the local fire chief, came through the Department of Homeland Security by way of the Federal Emergency Management Agency. That money was allocated through the American Recovery and Reinvestment Act, the $787 billion stimulus measure passed with just three Republican votes in the Senate in February.
You could almost sense Lewis shaking his head on the other end of the phone — knowing that Burr will no doubt try to pull the wool over voters' eyes and flat out lie about this hypocrisy and more. "You have to go to the people with the truth about what is really going on; for Senator Burr it's all premised upon your ability to hide your ball from the people."
More below the fold — LGBT rights, constituent services, the DSCC's "anointed pick", and more.
Everyone's mind is on the economy, and North Carolinians are looking for an advocate in Washington, certainly not our current party of no Senator. Lewis noted, "This recession is wide and deep and we need to invest in new industries, such as alternative energy — clean tech, bio-tech and pharmaceuticals — these industries meet the country's needs right now. North Carolina is well-positioned to be emerge out of this recession with a strong economy. We have excellent natural resources from the coastal areas to the mountains to take advantage of solar and wind energy potential to drive investment." Lewis stressed that the state's strong academic institutions will also help in the state's recovery by drawing businesses to this new economy.
When it comes to health care, Ken Lewis is strongly in favor of the public option (that is now dissolving before our eyes), and as an attorney with many business clients dealing with the financially draining cost of providing employees with insurance, it was easy to detect his frustration with the bickering going on in Congress that loses sight of the big picture — "We need these basics — health care reform that provides broad coverage if you get sick, and protection from being denied treatment or policies because of pre-existing conditions, and costs need to be affordable for everyone. 'Letting the market decide' in the current system hasn't worked; costs have gone up, not down."
I asked him about the third rail topic of immigration and health care, given President Obama and Joe Wilson were on a race to the bottom to say undocumented human beings were not to receive benefits in any form or fashion in health care reform, Lewis said: "People who are not here legally — we are using the most costly way to treat them. It's good that ERs are required to treat them, otherwise receiving care would be nearly impossible. The only way this is going to be addressed in immigration reform. I'll say this — demagoguery has no place in the public discourse when real problems need to solved in our health care system."
In turning to LGBT issues, I asked him why he felt comfortable discussing equality issues, particularly as a candidate who, if elected, would be the first black U.S. Senator to represent North Carolina. He has to turn out the large black population in this state, a sizeable part of which is religious and socially conservative. Lewis didn't miss a beat — "Basic human rights for all people is the right way to see this — we struggle and we've made tremendous strides racially, and we will continue to make strides to change minds about those issues as well."
Asked whether he would speak about LGBT issues and legislation before black church groups he didn't shy away, noting that during 2008, candidate Obama did challenge audiences in the black community not accustomed to open discussion of LGBT issues, never mind calling for introspection about discrimination against any group of people. Ken Lewis said it's short-sighted for communities of color to not engage these issues because the silence has come at a terrible cost. "The African American community has many issues with HIV/AIDS and has failed to come to grips with people who are in the closet and are not allowed to be who they are."
Jake Gellar-Goad, in an earlier diary, elicited these responses from Lewis on LGBT positions, and he had no tro
uble being specific:
Don't Ask, Don't Tell?
I'm a firm believer that we should not discriminate against people. That's part of my core belief structure. We have men and women of all sexual orientations serving in the military. The idea that we would remove an officer or anyone because of his or her sexual orientation is abhorrent to me.

Employee Non-Discrimination Act?
I have not read the Employee Non-Discrimination Act, but I will repeat that I do not believe we should discriminate against people because of their sexual orientation.

Civil Marriage?
I understand people and their religious beliefs and I respect that very much and I would not want to do anything that infringes upon someone exercising their religion, but with respect to government actions and as a society of people who have a variety of faiths and non-faiths, I do not believe we should discriminate.
One of the terrible misconceptions about the South in general is that it's a hotbed of racism and culturally backward. Since North Carolina has 100 counties, from the deep blue Triangle to deep red counties Down East, I wondered what the reception was life for him, as a black man, seeking the votes of such a diverse state. "I've been all over the counties — rural and urban — all are willing to listen to what I have to say — people are very excited about moving forward. We saw that last year. I have no illusions that when going outside Democratic groups there may be challenges. I know the capacity of people to change. I believe in the power of the human spirit."
A factor Lewis has to contend with is that in 2010, you don't have a presidential ticket that guarantees to turn out that voter base. "In an off year you have to work harder to get attention and people who have been let down are looking for solutions."
When I asked him how he can set himself apart from Elaine Marshall, he pointed out what some would say is a liability — the fact that he has not held elective office. "I'm not a career politician, I have a different life experience, my experience has been about working in communities, working to bring opportunities to people and communities from my 22 years of experience," he said. And as far as how he would adapt to the role of a legislator? "As a transactional attorney I know full well how legislation impact my clients — low-income housing, business clients — and I know how to work with a wide variety of views and perspectives." Well he'd need that skill in boatloads.
I mentioned Cal Cunningham's entry into the race and that he's seen by many as the golden boy of the Democratic Senatorial Campaign Committee (DSCC), a move that echoed the machinations of 2008 to push Kay Hagan forward as the candidate to beat (because, of course, openly gay candidate Jim Neal, already declared and in the running, was deemed unelectable by the powers that be). Lewis was rankled and said "the DSCC does not contribute to candidates; it does in a general election work to defeat Republicans to get Dems elected. It won't run ads to defeat us (meaning he and Marshall).
While that's one matter, the question is why does the DSCC keep meddling in our races like this? It really looks unseemly this time around, particularly with a woman and a black man getting the brush-off for another candidate the Beltway thinks is "more like NC." They all are. It's good to have all three hats in the ring. Any of them would be a closer match to the NC of the present and future than Richard Burr. Let the flipping people decide.
My last question was actually a big beef of mine — constituent services. Having written Jesse Helms, Elizabeth Dole and John Edwards when they served in the U.S. Senate, only Jesse Helms's office managed to 1) respond quickly and 2) address the specific issue in my letter. Dole's office was pitiful — responses shot right out of the "Constituent Services Letter Generator that you waited months for — and the answers that were so non-specific that they were hilarious. And Edwards, well, my letters went into some black hole, I never received a response. I asked Lewis what he envisions in terms of communicating with constituents. "It's one of the reasons I'm running for the U.S. Senate – to make sure that the people I represent know I'm there to serve them and our state. They will hear from me and I will listen."
Related:
* Kenneth Lewis Campaign Site
* Contribute
* Facebook page
* On the Record…2010 NC Democratic Senate Candidates