New York protests rejection of marriage equality bill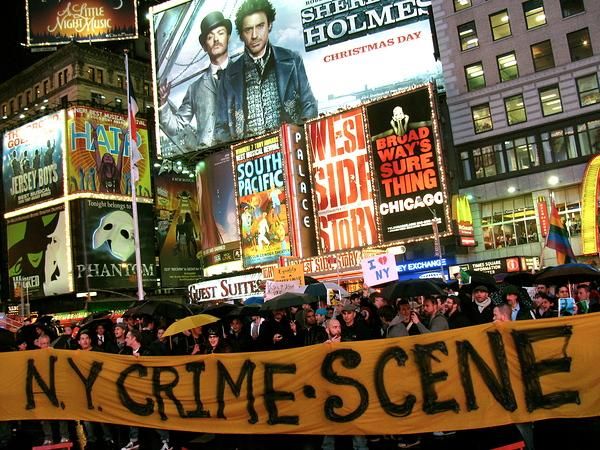 Banner by rainbow flag creator Gilbert Baker.
The anger over Wednesday's vote in the NY State Senate rejecting marriage equality (38-24) spilled into the streets of Times Square last night and some of our Empire State blogger buddies were there to cover the impromptu demonstration (about 200-300 people).
Andrés Duque of Blabbeando snapped a set of great photos including the one above. Andre's slideshow:

Angered by the results, the crowd was energetic and seemed ready for action. But there was also an air of uncertainty as what the next step should be. Most of the anger seemed directed at the 8 Democrats who voted against the bill with the crowd chanting "Vote them out! Vote them out!"
The H8 Dems (Photo: JMG's gallery):
• Joseph Addabbo (D-Queens) – NO
• Darrel Aubertine (D- Cape Vincent) – NO
• Ruben Diaz (D-Bronx) – NO
• Shirley Huntley (D-Queens) – NO
• Carl Kruger (D-Brooklyn) – NO
• Hiram Monserrate (D-Queens) – NO
• George Onorato (D-Queens) – NO
• William Stachowski (D-Buffalo) – NO
Paul Schindler of Gay City News: "One defection was Queens freshman Democrat Hiram Monserrate, who is facing sentencing December 4 on a domestic violence conviction and also a primary challenge from the Queens Democratic organization. Monserrate, in his years on the City Council since 2001, was a vocal supporter of the LGBT community, and prior to his election to the Senate was on the record supporting equal marriage rights."
"I have religious beliefs, but when I walk through those doors, my Bible stays out," Senator Eric Adams of Brooklyn, who is black, said during debate. In response, Ruben Diaz, a Pentacostal minister representing the Bronx and long-time foe of equality said "The Bible should never be left out."
Joe Jervis of Joe.My.God also covered the event, and added to the crowd's creative expression of anger. He also has video of impassioned speeches by pro-marriage equality legislators, including Adams.
During tonight's marriage protest in Times Square, I decided to take my disgust to the new mega-Jumbotron above American Eagle at Broadway & 45th, where a purchase allows you "15 seconds of fame" via their in-store camera. The store's manager disallowed my uber-angry signage, so with an "I Heart(Break) NY" sticker on my hoodie, I returned with Milk art director Charley Beal to send Times Square our displeasure, to the approving hoots of the protesters. Surprisingly satisfying.
Joe also ran into a couple of despised pols just off Times Square. Guess they were wandering around looking for a media opportunity to crow.
More from Gay City News:
Since May, Senator Thomas K. Duane, a Chelsea Democrat and the chamber's only out gay member, has said he had the votes to pass the marriage equality bill he sponsors. The Empire State Pride Agenda (ESPA), the state's LGBT lobby, has similarly voiced confidence that a bipartisan majority in the 62-member house would vote yes. In October, Governor David A. Paterson, who introduced the legislation that has now passed the heavily Democratic Assembly three times, referring to the Senate's Democratic conference leader, said, "Senator [John] Sampson I've heard on occasion say that he thinks the bill can pass."

…There will be debate, likely even rancor, in the weeks and months ahead over what went wrong, whether the bill should have come up for a vote if it were destined to fail so decisively, and what to do next…"We should be incredibly angry," Duane told Gay City News. "I'm incredibly angry. I think the community should be very, very, very, very, very angry."

Stating emphatically, "I'm not the one who ever lied throughout this entire process," Duane charged that at least eight of his colleagues, Democrats and Republicans, had broken promises made to him, and said that he felt "betrayed."
With New York, Maine, and New Jersey, the wisdom of a federal strategy is enforced as a new way of approaching this dilemma. What is not acceptable is that we all get filled with fear and start giving away our freedom out of frustration. Separate but equal does not work and those seeking the safety of avoiding the marriage issue should think again. Now is not the time for the timid. Now is the time for an even more aggressive approach, a deep review of how to proceed and the implementation new strategies.

If they insist on operating on a level of betrayal then it is time to seriously consider a more civil rights movement approach to fighting for our rights instead of pumping money into either party in some sort of masochistic dance. We must consider a concerted and well planned campaign of non-violent civil disobedience. Business as usual can not continue in this country as long as we are separated from the rest of our neighbors, families and friends who have full equality and freedom.
Rex Wockner also has a report, including reactions.