The move to repeal Prop 8 has been up in the air for quite some time – a 2010 effort vs. 2012. Today the Courage Campaign announced that its review of the political landscape, organizing and funding does not yet support a 2010 initiative.
PRESS RELEASE

FOR IMMEDIATE RELEASE
November 30, 2009

Courage Campaign Calls for More Research and Time to Build Support to Restore Marriage Equality in California

…The Courage Campaign, in partnership with Lambda Legal, has recently concluded the first phase of extensive and groundbreaking research about public beliefs and concerns about marriage and homosexuality. It confirmed that attitudes are shifting steadily toward equal treatment of same-sex couples, and that conversations among family members and other close relationships inevitably speed the process. The statement released today is concurrent with a Lambda Legal statement.

"For months, we have laid out the criteria for moving forward. Like the Obama Campaign, we understand that we need a combination of powerful and clear research that informs an expertly run campaign, an unstoppable movement that harnesses the new energy we have seen since the passage of Prop. 8 and the connections through personal stories and outreach in order to win at the ballot box," said Rick Jacobs, the Courage Campaign founder and Chair. "We are taking the lessons learned from last year's Prop. 8 campaign, the campaigns in Maine and other states to understand the fundamental work that must be done before moving forward in California. We also must come together as a community to create a broad coalition and governance structure, put in place a strong manager and secure the resources to win. Right now, the pieces are not all in place to do so confidently."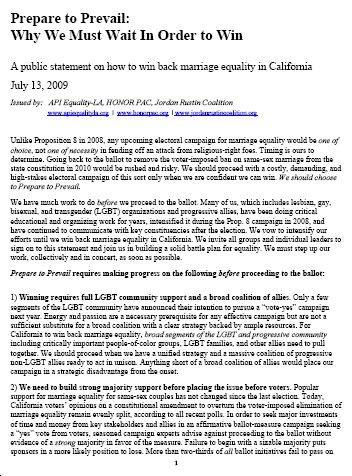 As Rod 2.0 notes, a coalition of minority LGBT groups called for a 2012 effort last summer, citing the need to do the necessary outreach to all communities in order to secure a strong victory in overturning Prop 8.
Equality California, the state's largest gay rights groups, and a coalition of black, Latino and Asian LGBT groups announced last summer that they preferred waiting until 2012. With today's withdrawal of the Courage Campaign and Lambda Legal, the only notable group working to place enough signatures for a 2010 repeal is Love Honor Cherish.
When I recently interviewed Mark Kleinschmidt, the incoming mayor of Chapel Hill, he was also an advocate of waiting to build a broader coalition – and to maximize turnout during a presidential election year.
PS: Everybody (who is sane) agrees that putting civil rights on the ballot is wrong, not to mention unconstitutional. And it will be found that way, eventually. So, given the losses we've had on this particular issue, do you think that fighting referenda makes any sense, pouring hundreds millions of dollars into these campaigns worth it?

MK: I don't know (long pause)…I think we need a little more carefully about each fight. I'm not convinced that California isn't worth it. I still think we can win California…I think they should wait until 2012. I think we need to pulling our people to the polls to vote. It's just much more difficult when you don't have an Obama at the top of the ticket (to pull more minorities to the polls). I think we can do better the next time he's on the ticket…in the absence of a high-profile election, there are huge segments of our people (pro-marriage equality) who will not be voting even though they would be with us if we could get them there (the polls). California is 3,000 miles from here, so perhaps they have some strategies for getting them to the polls or improving turnout on our side. And if they do, I wish them the best.
Related:
* CA: LGBT coalitions of color – forego 2010 Prop 8 repeal initiative; need more time to secure votes