Breaking: President to speak at HRC Annual Dinner held during the National Equality March weekend
(UPDATE: Mike Signorile and I will also talk this news at 2:30 ET.)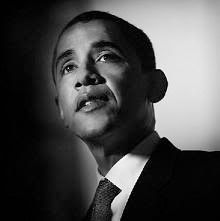 The NYT:
Mr. Obama's appearance on Saturday at the annual dinner for the Human Rights Campaign, a leading gay rights advocacy group, represents a significant show of support for gay rights at a time when many prominent gay and lesbian activists have been questioning the president's commitment to their issues.

Many gay rights activists have become increasingly vocal about their frustration over what they see as tepid support from Mr. Obama. While the president has professed support for overturning the ban on gays in the military and called the law that precludes federal recognition of same-sex marriages discriminatory, he has not engaged on gay rights issues as actively as some had hoped.

The Justice Department is defending the federal marriage law, known as Defense of Marriage Act, much to the dismay of many gay rights advocates. And Mr. Obama has been noncommittal about when he will move to end the "don't ask don't tell" policy. In June, he acknowledged their irritations at the slow pace of change at a gathering of about 250 gay rights leaders who had been invited to the White House.

While it remains to be seen what Mr. Obama's appearance at the dinner will do to his standing in the eyes of gay rights activists, his speech may mollify some of their concerns.
The HRC dinner is expected to have more than 3,000 in attendance, and one thing will be clear — President Obama will be hobnobbing with the A-gays, not the people at the march. As he will be only the second President to attend the dinner (Bill Clinton was the other) I hope that Obama has some actual news to break about acting on his promises at that dinner or he's going to be in a world of PR hurt. Between Senate Majority Leader Harry Reid writing the White House a letter about moving on DADT and this stunt appearance, it doesn't take a rocket scientist to figure out that there is a lot of CYA action going on with the NEM that weekend and Congress actually in session because of the health care battle.
They can't claim to be out of town while there are thousands of LGBTs out there representing the people this administration continues to make sit and watch the finger-pointing between the White House and the Hill about how they can't do ANYTHING right now.
Honestly, the President would earn even more credibility if he showed up at the march to speak to those who couldn't afford a ticket to the HRC dinner — those are people who are more profoundly affected by lack of protections in the various states they will travel from to the march. But that won't happen for obvious reasons.
Karen Ocamb@LGBT POV, pretty tongue in cheek:
But one has to wonder if Obama's appearance at a fundraiser for what many perceive as a mostly rich white gay male organization will help or hurt him in the long run, especially since he hasn't really come through on his campaign promises.

…I wonder if someone will jump up and challenge him just as Lane Hudosn challenged former President Bill Clinton on marriage equality at the Netroots Nation convention.

On the other hand – maybe Obama will announce he's signing a stop-loss order for Don't Ask, Don't Tell. And since HRC is honoring Judy Shepard, perhaps he'll announce that he's personally stepping in to push the hate crimes law attached to the Defense Appropriations bill, now in the conference committee.

Or he'll clarify his Justice Department's approach to defending DOMA in the courts.

Or he'll come out in favor of full marriage equality – a position he publicly held in the 1990s.
Not to mention ENDA. From HRC's release:
"We are honored to share this night with President Obama, who has called upon our nation to embrace LGBT people as brothers and sisters," said Human Rights Campaign President Joe Solmonese. "It is fitting that he will speak to our community on the night that we pay tribute to his friend and mentor Senator Edward Kennedy, who knew that as president, Barack Obama would take on the unfinished business of this nation – equal rights for the LGBT community, and for every person who believes in liberty and justice for all."
NOTE FROM PAM: For those out there offended by my use of the term A-gays, perhaps you should think of a better shorthand term for me to use. What I am referring to here is the class and access distinction between most of the LGBT community (who cannot afford the $250 and up ticket price to see the President or pay thousands to captain a table at other events). The divide is very real and troubling on several levels. These are often a sea of gay white well-to-do men with a sprinkling of lesbians, plus media and anyone lucky enough to scrape money together or are sponsored by their organizations to attend. It doesn't mean attendees are just schmoozing or have no sense of activism, it just means there's an inconvenient truth no one likes to talk about and that makes it uncomfortable when it is raised.
These events are simply out of reach of the vast majority of average LGBTs. It's the truth. That's why I also said it's too bad the President won't be at the march; that was an opportunity to balance the scales and it's clear it won't happen for a host of reasons.
The reason "A-gays" pushes buttons is the obvious class issue. And we can't continue to sweep that factor under the rug because it affects all of us — the Obama admin thinks that appearing at an HRC dinner is talking to the LGBT community at large (which is also what HRC wants him to think, of course, why wouldn't the org?) — and it's what causes the internal strife between the grassroots and the Beltway orgs all the time. Owning up to what's going on is what's at the root of "A-Gays" when I use it.
A note about the National Equality March, why I won't be there, and a missed opportunity below the fold.
---
NOTE 2 FROM PAM
: People keep asking me about whether I'll be at the march to cover the event, but I had a previous commitment to attend and serve on a panel at the
Fire & Ink Conference
in Austin, TX.
Fire & Ink is devoted to increasing the understanding, visibility and awareness of the works of gay, lesbian, bisexual and transgender writers of African descent and heritage.
It's kind of unfortunate that the march, which surely needs more LGBTs of color in that crowd, conflicts with a gathering of this slice of the community:
In 2009, Fire & Ink III: Cotillion will bring together hundreds of lesbian, gay, bisexual and transgender writers of African descent whose work spans the genres, including fiction, nonfiction, poetry, screenwriting, playwriting, multimedia arts and performance arts. Join writers, readers, thinkers, scholars, editors, publishers, curators, audio and visual artists, students, teachers, media professionals and art lovers from around the country to:

CREATE a body of writers dedicated to reversing negative trends in cultural, literary and artistic marketplaces, while creating more positive, powerful arenas for those expressions.

TEACH, inspire and encourage each other while creating lasting alliances.

DISCUSS the position and importance of Black LGBT literature, culture and artistic expression in the context of national and world literature and artwork.

DEVELOP and implement strategies to encourage universities, libraries, mainstream and independent bookstores and other venues to integrate more LGBT literature and artwork created by writers of African descent within and outside of traditional curricula and offerings.

PLAN, share and implement professional and artistic opportunities.