More magazine: 'Over 40 and Over Men'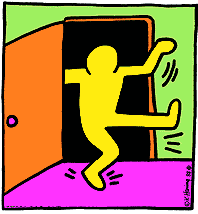 I have been looking forward to getting one of those spa pedicures where you sit in the massaging chair and get the whole she-bang — massage the little piglets, scrubbing, reflexology and the like. My neuropathy in my feet has had them burning and feeling like I've been walking on rocks for the last couple of days, so Kate was a doll and took me today…
So after practically passing out in the chair, I went over to let my nails dry and picked up a magazine to pass the time. It was More magazine, which targets the plus-40 women's market, with a hard to pin down focus. Some articles are about staying young looking and dressing fashionably, others are on body and age acceptance, it runs the gamut. It has the usual heterosexual vibe though, so I read it with amusement until I turned to an article that stood out from the rest, "Over 40 and Over Men" by Tamara Jones.
While the topic of coming out later in life isn't exactly headline news in the community, this take on it was interesting thinking of all those straight women over 40 perusing the article.
Some women do feel as if they've been struck by lightning, says Joanne Fleisher, 64, a clinical social worker in Philadelphia. A late-blooming lesbian, she now moderates an Internet message board, Ask Joanne (at lavendervisions.com), for married women grappling with their sexuality. Others say they had some lesbian feelings earlier in life but repressed them, only to find them suddenly coming back much stronger at midlife. But it's impossible to state exactly how many women are having any version of this epiphany.

…[A]necdotal evidence suggests that more women are coming out after age 40 than ever before — a reflection, most likely, of changing times and attitudes. For example, over 2,600 women are registered on Fleisher's message board; countless others visit as guests. An analysis of U.S. Census Bureau data by Gary Gates, Distinguished Scholar at the Williams Institute, a UCLA think tank devoted to sexual orientation, shows that, among women living with a same-sex romantic partner, 36 percent of those in their 40s had been married to a man at some point.

Among women in their 50s who were living with another woman, more than half had left straight, married life behind; that percentage jumps to a whopping 75 percent for those age 60 or older. Finally, 42 percent of the respondents in a recent MORE.com poll reported knowing one or more women who came out as gay or bisexual at age 40-plus. And nearly a third of our respondents, gay or straight, found themselves attracted to another woman for the first time at midlife.
I found myself thinking, what must these husbands think? Publicly, we usually hear more stories about gay men coming out in mid-life (think McGreevey), certainly in crisis. However, the statistics show more women come out while in marriages than men, and in Jones's article, the women don't hold back on their self-revelation and what it encompasses. More below the fold.
Once you open the box, you can't put the lid back on," says Micki Grimland, a 51-year-old Houston psychotherapist who left her husband of 24 years after realizing she was gay. "I had a great sex life during my marriage, but it was never near the connection I have now. I'm happier and in more resonance with women; the sex I'm having is off the charts."

…Melanie Shore agrees. She had enjoyed multiple orgasms while with her husband, but she says sex with a woman transported her to a whole new level. "There's no end point," she explains. "There's this ability to roll back and forth from hot sex to girlfriends giggling and then back again." For financial and insurance reasons, Shore is still legally married. But she is certain she won't return to the straight life. "I don't ever want to kiss a man again. I don't want to have sex with a man again," she says simply.
OK, beyond the whole obvious sex thing and the current climate being more accommodating to allow these women to explore bisexuality or indeed discover they have been living a lie is how closeted do they remain? The news delivered in More is mixed. Many lead odd double lives, living with their husbands, but sleeping in another bedroom so as to keep their families intact if the children are younger. In one case, a husband told his wife to "go with" in terms of exploring her same-sex interests. However, this was just as scary for her to embark on this new journey because 1) to do this may result in giving up heterosexual privilege she was accustomed to and 2) her support network is made up of straight women in marriages, not the lesbian community, and she didn't feel part of either any more.
I'm glad that Jones didn't turn the article into merely a binary discussion; she did cover the difficulties of coming out as bisexual; the B of LGBT is often rendered invisible.
It is hard enough for any newly separated older woman to begin again — imagine trying to relearn the rules in a whole new social milieu. "I know how to flirt with men; I've done that all my life," says Jean, a 44-year-old New York City nurse who is in the process of coming out as bisexual. (She asked that we use only her middle name.) "I'm very shy with women, though. I haven't quite learned how to flirt with them yet. I actually thought it'd be easier, but it's not." The fact that Jean remains attracted to men has proved a unique challenge: Gay people, she says, are "not always 100 percent accepting of bi people. We get suspicion from both the straight and gay communities. Being around other bisexuals, male or female, is very liberating."
So read the rest of this lengthy article; try to read it through the eyes of More's audience.
1) Do you think today's women over 40 are feeling more liberated to explore feelings that they suppressed in order to fit into the heterosexual model of a woman in this culture?
2) It would be interesting to know how many of these women, without previous connection to the LGBT community also come out politically, or remain otherwise agnostic to the civil rights struggles of the community at large?
3) Does this article reveal what the real problem the fundies have with the LGBT equality movement and our winning the war — that normalization of being LGBT and a culture that allows one to explore feelings without shame and regret? It seems to, since one assumes many of these women (and those of generations before them), simply ignored their same-sex desires or blamed and shamed themselves for having them because of the cultural norms?