Good As You picks apart new Stand For Marriage Maine's web site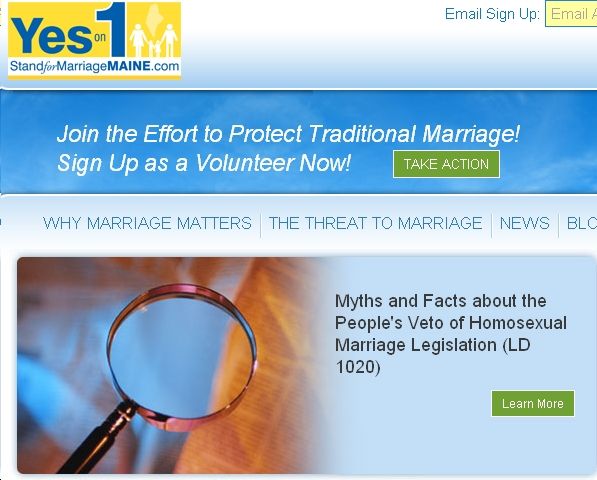 Jeremy does the hard work so you don't have to. He's taken a surf through the spruced-up site for the coalition of hate and has noticed some similarities to "product" churned out by NOM. A couple of his observations:
(1) The National Organization For Marriage's fingerprints are all over this thing! Some of the copy is lifted directly from past NOM press releases, and most every bit of information (and stock phrases like "whether we like it or not") are pulled right out of the Maggie Gallagher playbook. So make no bones about it: There's all kinds of out-of-state influence here.

(2) Some of the claims are unbelievable, even for the reliably deceptive 'pro-marriage' movement. Like, for instance, the claim that the Roman Catholic Church has "historically fought hard for the dignity of homosexuals" because they have "worked to improve AIDS funding and provide hospice and health care for gays and lesbians in need." Apparently Stand For Marriage Maine has forgotten that the Roman Catholic Church and its head Pope dude refer to homosexuality with words like "intrinsic moral evil" and "objective disorder." If that's "dignity," then we would hate to see disrespect!
That's just two out of 10 interesting items. Go surf and read the rest.
For your entertainment, here's what's going to happen if marriage equality remains the law in Maine…smell the BS
Examples of the legal conflicts that will be created include:

* The refusal of a religious school to offer housing to married same sex couples could be sued or forced to stop offering housing to all married couples;

* A religious organization that refuses to hire or retain an employee in a same sex relationship could be sued;

* A religious individual who owns a business such as a photographer, florist or inn keeper who refuses to participate in a same sex wedding could be sued or fined;

* A religious-based social service organization could lose government funding for refusing to provide same-sex couples with spousal benefits; and

* Professionals like doctors, psychologists, counselors and others who conscientiously object to same-sex marriage can have their licenses revoked.

You can always contact them (info@standformarriagemaine.com) and let them know what you think of the site. 🙂