MSNBC's David Shuster covers the teabagger crazy who tore the Rosa Parks poster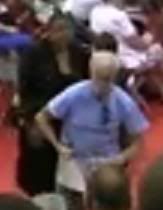 Blend reader GottaLaff of The Political Carnival was so incensed about the right wing, racist nutbag who ripped up a poster of Rosa Parks during a Sen. McCaskill town hall that he contacted David Shuster about it, and then emailed me to say his report was on.
Earlier today, I Tweeted David Shuster about the video Paddy found of a clip that the corporate media had conveniently ignored (they only aired an out-of-context segment that showed an African American woman being ejected from a town hall meeting, implying that she had instigated the disruption).

Shuster apparently found the clip as informative as we did, and included it as part of a broader discussion, and for that we thank him.
Related:
* Low-life teabagger protestor tears up poster of Rosa Parks at health care town hall