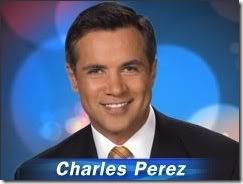 The Miami Herald's Steve Rothaus reports on the discrimination lawsuit and subsequent firing of WPLG-ABC's Charles Perez, who alleges that the station
demoted him to weekend anchor/reporter "because of their discomfort over the increasingly high profile of my sexual orientation."
The station's POV:
Station executives recently told Miami Herald columnist Joan Fleischman their decision was driven by economics.

WPLG Vice President and News Director Bill Pohovey denied Perez's claims: "This is an outrageous accusation," Pohovey said Monday in a statement to The Herald. "As a gay man myself, I can safely say the Station does not discriminate against gay people. Charles' claim that the Station discriminates against gay people is untrue and offensive."
The red flag in this story is the appearance of station's discomfort with Perez's increasingly messy private life. The MIami-Dade anchor's name has been in the local news because of abuse charges against his former partner Dennis Ricardo Peña, whom Perez filed a injunction against for protection against domestic violence for being "stalked, harassed and threatened" by Peña. There are also charges and counter charges about whether Perez's email was hacked and confidential information disclosed that the anchor felt could damage his professional rep.
You won't believe what else was released. It's below the fold. I can only imagine the squeamishness of station officials (always concerned more about ratings, advertisers and "community relations" when this hit the papers:
Peña filed a 12-page motion to dismiss Perez's petition. The motion mentions Perez's co-anchor Laurie Jennings and her contract negotiations; details of the Perez-Peña sexual relationship; and Perez's relationship with a new partner, accountant Keith Rinehard. In the motion, Peña claims that Perez reached out to the therapist 'for counsel with his `gender identity issues.' "



Perez issued this statement: "Integrity, professionalism, and privacy are three principles that I have lived by. This is a situation that is overblown, misunderstood, taken out of context, and misused. The real issue surrounds the interpretation of language in an e-mail. I have never questioned my identity as a male. There is nothing else to say about the attempt by a former partner to malign me and my reputation by spewing out baseless statements and allegations."

Peña says in his domestic violence petition that Perez would "throw household items, punch[ed] walls and use demeaning and vulgar language."
Wow, talk about trans-bashing. It wasn't enough to say the charges were simply false and move on, but he clearly feels the need to defend his manhood in an aggressive manner. Oh, and Peña also lobbed charges of prescription and non-prescription drug and alcohol abuse against to boot.
Once you toss chum like that into the water for media sharks as Peña did, it's no surprise that Perez was cut loose. Not because Perez is gay, straight, or questioning, but local stations are so paranoid; they depend on anchors (for right or wrong) to be the wholesome face of the station. The world of on-air news talent is still incredibly closeted. For a look at how the bias and discrimination promotes the closet, read Perez's self-flagellating in a piece in The Daily Beast, "Why I Committed Career Suicide."
My ex-employer will never admit this, but if the past decades have taught us anything, it is to be much more subtle about our prejudices. Getting rid of "the black guy" or "the woman" or "the gay guy" or "the Jew"-not to mention many other select groups-has given way to "we really should go in a different direction." Or "we've really got to consider what's the least objectionable choice."

I'll probably never work in the news business again. Honestly, who's going to hire a newsman, as good as he may be, who litigates against his employer? It's not exactly a career builder. The good news, as my dentist told me August 6, the day I was fired, is: "They can only take your job. They can't take your talent."

…In fact, over the previous five months, I'd been told, "Don't get married, Charles. We don't need that." I'd also been told not to have children. In essence: "You're the main anchor and you're gay, but let's not push it."

…I understand there are those who believe that my actions will actually make it harder for gay men and women to rise up, for fear they'll start trouble. But that is no reason not to do the right thing. In the words of the Dr. Martin Luther King Jr., "The arc of history is long, but it bends toward justice." Barack Obama, in his acceptance speech on November 4, 2008, added that we play a part in that history and must put our hands on that arc and "bend it once more toward the hope of a better day."
Lord have mercy, this is what I'm talking about — this pandering to bigotry and paranoia by the station only encourages the closet doors to remain shut. But in some ways Perez is right — this is a bigger issue about industry blackballing merged with a discrimination case. Lyndon Evans has written a response, "One small step for Charles Perez, one giant leap for lgbts in media", to Perez's piece, taking the tack that this is not necessarily career suicide, and it's a boost to the movement and ENDA.
How many "straight" men or women in the media would have put up with such suggestions? [Over the "You're the main anchor and you're gay, but let's not push it" remark.]

The very idea that it would even be said harkens back to the old Studio System in Hollywood where the heads of MGM, 20th Century Fox, Paramount and others kept their stable of stars on a tight leash.

It is just unbelievable that this can and does go on in today's media.

Yes media outlets, if written into contracts or employee policies do have the right to protect their organization from "undue embarrassment", however when that is being extended into one's lifestyle, NO, that is totally unacceptable.
There's a lot we cannot know since personnel matters are involved. But I think a lot depends on what kind of clauses there are regarding "image" in on-air talent's contracts that the station could use to skirt the issue.
Anyway…
1. Do you think that Perez has a winnable case?

2. Is part of the bias problem the closet itself and the gay and lesbian anchors affirming the biases of the stations to rise professionally?