Elaine Donnelly whines about Congressman Patrick Murphy and DADT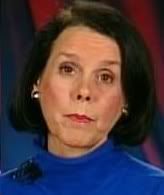 The credibility of the homo-obsessed, perpetually frustrated Elaine Donnelly of the Center for Military Readiness is shot. Not only is she wholly unqualified to speak about the military as any kind of authority (she does not have any military experience), she delivered jack*ssery testimony that drew laughter on Capitol Hill last year as she defended the discriminatory Don't Ask Don't Tell policy. Let's hope she shows up for the Senate hearings.
In the current issue of Human Events, the doyenne of discrimination bleats:
Murphy has replaced former Rep. Ellen Tauscher (D-Calif.) as the new lead sponsor of H.R. 1283, a bill that would repeal the 1993 law stating that homosexuals are not eligible to serve in the military. That law, Section 654, Title 10, frequently is mislabeled "Don't Ask, Don't Tell." Murphy's bill would replace the 1993 statute with a new law forbidding discrimination in the military "based on homosexuality or bisexuality, whether the orientation is real or perceived."

The open-ended language in "Murphy's New LGBT Law" would mandate accommodation of professed (not discrete) sexual minorities in all branches and communities of the military to include Army and Marine infantry and Special Operations Forces, Navy SEALs, and submarines. This would be tantamount to ordering military women to live with men in close quarters offering little or no privacy on a constant basis.
Here we go, you know what's coming — discussions of sexual tension, naughty bits being shaken around to entice horny service members who think with their genitals and not their brains — and yes, they handle guns and WMDs! ZOMG! If you didn't catch Elaine's sitcom-worthy testimony in defense of DADT, here's Patrick Murphy and Elaine in action on video.
Men and women are human, and therefore imperfect. Homosexuals are no more perfect than anyone else. Sound military personnel policies encourage discipline rather than indiscipline, but Murphy's New LGBT Law would have the opposite effect.

If Congress passes Murphy's New LGBT Law, the armed forces would have to disregard the normal human desire for modesty and privacy in sexual matters. Unprecedented male/male and female/female sexual tensions will ensue, but the military will try to override them with mandatory sensitivity training courses. Corollary "zero tolerance" policies would deny promotions and end the careers of thousands of military personnel who disagree for any reason.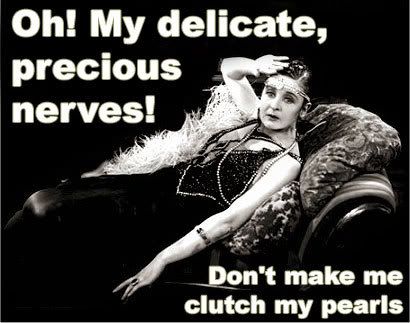 Her interpretation of her appearance:
I tried to present comprehensive testimony on the history and purpose of the 1993 law and the consequences of repeal. But Murphy and other committee members demonstrated little concern about predictable problems. Instead, they diverted attention from serious issues by trying to bully me with derogatory comments or questions. Their dismissive behavior proved my point about intolerance in the name of "tolerance."
Yes, serious issues like this
Donnelly treated the panel to an extraordinary exhibition of rage. She warned of "transgenders in the military." She warned that lesbians would take pictures of people in the shower. She spoke ominously of gays spreading "HIV positivity" through the ranks.

"We're talking about real consequences for real people," Donnelly proclaimed. Her written statement added warnings about "inappropriate passive/aggressive actions common in the homosexual community," the prospects of "forcible sodomy" and "exotic forms of sexual expression," and the case of "a group of black lesbians who decided to gang-assault" a fellow soldier.

…"Like a woman who is stared at, her breasts are stared at," Donnelly explained. She further explained the "absolutely devastating" effect of homosexuals "introducing erotic factors" and made a comparison to Sen. Larry Craig's adventure at the Minneapolis airport. She said admitting gays to the military would be "forced cohabitation" and a policy of "relax and enjoy it."