Sen. Claire McCaskill: a yes vote on Thune would have opened door to gay marriage in Missouri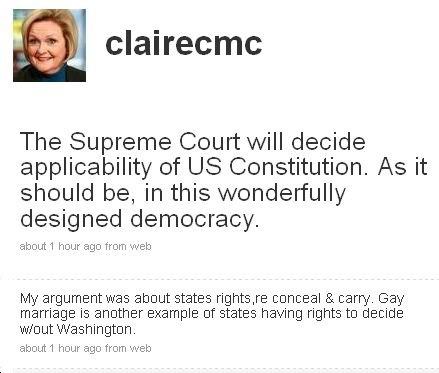 UPDATE: PROMO has responded to McCaskill's statement. It's below the fold. UPDATE 2: McCaskill's clearly aware of the pile she stepped in on Twitter (r). UPDATE 3: McCaskill sends out a "clarifying quote" via email:
"In talking about my recent vote against the gun provision offered in the Senate, I wasn't clear when I stated that my vote against that provision was because it came down to a states' rights. I was expressing my frustration in that some who argue that states shouldn't respect the laws, certificates, or permits from other states when it's convenient, like with gay marriage, but then argue that they should when it's convenient on another issue, like gun rights. They can't have it both ways," McCaskill said.
---
Love how Claire McCaskill
put 2+2 together on this one
. She did vote against the Thune amendment yesterday, but the Senator from Missouri was more preoccupied with ensuring that there wasn't an additional precedent set that would allow reciprocity of another state's marriage license of a same-sex couple. This is unbelievably disappointing.
Sen. McCaskill says she was not against letting people carry concealed weapons. But she is against requiring one state to accept another state's laws that might differ from its own. She says it would be a foot in the door that could allow Vermont's laws on gay marriage to be enforced in Missouri, which has a constitutional provision against gay marriage.
Listen to McCaskill's comments here. At Show Me Progress, Clark cuts too much slack.
McCaskill's explanation for her "No" vote is that she thinks it's a "state's rights" issue, and further that "it is a foot in the door to allow the laws in Vermont on gay marriage" to be enforced here in Missouri.

What??? There are plenty of examples you could give of so-called "states rights" issues, like affirming the right of states to enforce stricter environmental regulation than the federal government, rather than citing the "right" of states to maintain the separate status of a minority. Let's remember that the slogan of "states rights" has been used throughout American history primarily to defend the institution of slavery and later the practice of segregation.

I don't think Senator McCaskill is a racist, nor do I think that she hates gay people. She has been good on issues like the hate crimes bill in the past. But just because she has generally had a good record in the past doesn't mean she gets off the hook for grasping for the example of gay marriage as a bogeyman. I certainly hope that she will make use of public channels (like Twitter) to make it clear that she respects the LBGT community here in Missouri and around the country.
Well she many not hate gay people, but she doesn't think that they deserve to be equal in all ways under the law. If she has a religious objection that's one matter, but we are talking about civil marriage and reciprocity in the same way a drivers license is recognized. What part of it does the Senator not understand? She needs to explain herself. Certainly she must have LGBT on her staff — does she think that they are lesser human beings?
PROMO, Missouri's statewide LGBT advocacy organization, plans to have a public response to this shortly. has responded.
UPDATE 4: Kerry Eleveld of The Advocate is also on this story.
H/t, Monkey Doo
Dear Equality Supporter:

I need your help this morning to educate Missouri Senator Claire McCaskill.

Sen. McCaskill was a co-sponsor on Hate Crimes legislation in the Senate. Her office has received calls from Missouri residents 5 to 1 against her support. The bill was offered as an amendment on a Department of Defense bill and we are still waiting for its fate once the bill goes through a conference committee.

Sen. McCaskill did a great thing in sponsoring the Hate Crimes legislation. However, I do not believe she fully understands and registers why Hate Crimes protections are needed based on her comments yesterday.

A concealed weapon carry bill was up for review in the U.S. Senate, which would have allowed concealed carry permit holders to carry guns between states having similar laws on the books. It was defeated 58-39.

In a statement defending her opposition to this bill, she stated: "This is a foot in the door that would require, for example, the laws in Vermont on gay marriage to be enforced in Missouri."

This is a problem. A state's rights argument is valid in this situation, however it is inconceivable that an ally can support Hate Crimes legislation- which recognizes the LGBT community is a target of increased abuse, intolerance and aggressive force- but uses a touchstone issue for the community as a shield rather than stand alone on an anti-gun sentiment.

In a time when we have seen incredible strides on a state by state basis, we have turned a corner and will not tolerate being used as a shield. Please reach out to Sen. McCaskill's office and let her know while she is an ally, you won't tolerate being used as a shield. The numbers listed are below for local and DC offices.

Thank you,

A.J. Bockelman
Executive Director
PROMO

Offices of Senator Claire McCaskill:

Washington, D.C.
202.224.6154
202.228.6326 (fax)

Cape Girardeau
573.651.0964
573.334.4278 (fax)

Columbia
573.442.7130
573.442.7140 (fax)

Kansas City
816.421.1639
816.421.2562 (fax)

Springfield
417.868.8745
417.831.1349 (fax)

St. Louis
314.367.1364
314.361.8649 (fax)