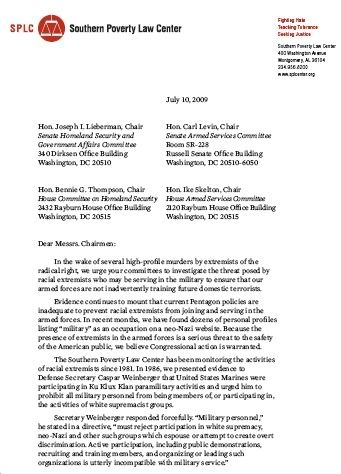 The bottom line is that while service members like Dan Choi receive discharge papers, the U.S. military has been recruiting from a putrid pool of candidates — neo-Nazis, skinheads and gangbangers. The Southern Poverty Law Center has been documenting evidence of extremist groups infiltrating the military with members maintaining social network profiles linking them to fringe, violent movements. Your tax dollars are being spent to train future domestic terrorists.
In a letter to committee chairmen with oversight over homeland security and the armed services, the SPLC said it recently found dozens of personal profiles on a neo-Nazi website where individuals listed "military" as their occupation – the latest evidence of extremist infiltration gathered by the SPLC. It also cites FBI and Department of Homeland Security reports supporting the SPLC's concerns.

"Evidence continues to mount that current Pentagon policies are inadequate to prevent racial extremists from joining and serving in the armed forces," SPLC founder Morris Dees wrote. He added, "Because the presence of extremists in the armed forces is a serious threat to the safety of the American public, we believe Congressional action is warranted."

The letter was sent to the chairmen of the House and Senate committees on Homeland Security and Armed Services. The SPLC has raised its concerns with Pentagon officials since publishing a report in 2006, but no apparent action has been taken.

In recent months, SPLC investigators found approximately 40 personal profiles that listed "military" as an occupation on the Internet forum New Saxon, which is operated by the neo-Nazi National Socialist Movement. One individual, who claims to be serving in Afghanistan, lists as his favorite book The Turner Diaries, which was written by neo-Nazi leader William Pierce. The book served as a blueprint for the Oklahoma City bombing by Gulf War veteran Timothy McVeigh. Another individual said he was about to be deployed overseas and was looking forward to "killing all the bloody sand niggers." Still another spoke of his hatred for undocumented immigrants.
SPLC notes that its two decades of research into this was confirmed by the government, and points out the insanity of kicking out well-trained, patriotic service members who are openly gay or lesbian.
In 2008, the FBI released an unclassified report that supported the SPLC's findings. This past April, the Department of Homeland Security issued a report stating that right-wing extremists currently pose the most significant threat of domestic terrorism and expressing the concern that they may attempt to exploit the combat training and experience of returning veterans.

New Saxon profileThe SPLC letter notes that since 1994 the military has discharged more than 12,500 servicemembers simply because of their homosexuality. "It seems quite anomalous that the Pentagon would consider homosexuals more of a threat to the good order of the military than neo-Nazis and other white supremacists who reject our Constitution's most cherished principles," said Mark Potok, director of the SPLC's Intelligence Project, which monitors extremist activity.
Meanwhile, the toll these miltary adventures started up by Dear Leader come at a steep price for those serving.
Suicides in the US Army are on the rise with 88 suspected cases in the first six months of the year, compared to 67 in the same period in 2008, according to Pentagon figures issued.

The latest figures confirmed warnings from top US military officers that the number of suicides among active-duty soldiers this year was on track to surpass a record level set in 2008.

Last year 128 soldiers took their lives, up from 115 in 2007, amid increasing strain on Army troops serving repeated combat tours.

The 2008 suicide rate among active duty soldiers rose to 20.2 per 100,000, surpassing a demographically adjusted national suicide rate of 19.5 per 100,000 in 2005, the latest year on record.