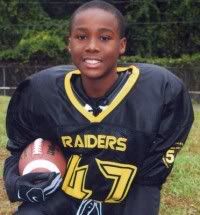 It's good to see action on this. It was a long, brutal, but successful battle to get anti-bullying legislation passed in North Carolina; creating safe spaces to learn in school should not be a political football.
No one knows this more than Sirdeaner Walker, who is in the public eye for the most horrific reasons — losing a child to suicide after bullying in school was badly handled by school administrators. Eleven-year-old Carl Joseph Walker-Hoover's precious life ended with an electrical cord tied to his neck, his body swinging from a support beam in the stairwell of his home, with Mrs. Walker discovering his lifeless body.
Sirdeaner Walker has taken action in her grief — she testified before House Subcommittees in favor of a federal Safe Schools Improvement Act. (GLSEN):

Carl, who attended New Leadership Charter School in Springfield, Mass., took his own life April 6 after enduring constant bullying at school, including being called "gay" and "faggot" even though he did not identify as gay.

"Carl liked football and basketball and playing video games with his little brother," Walker testified. "He loved the Lord and he loved his family. What could make a child his age despair so much that he would take his own life? That question haunts me to this day, and I will probably never know the answer.

"School bullying is a national crisis, and we need a national solution to deal with it. That is why I am here today. Teachers, administrators and other school personnel need additional support and clear guidance about how to ensure that all kids feel safe in school. Congress can make sure they have that guidance and support by making anti-bullying policies mandatory in all of our nation's schools."

The Safe Schools Improvement Act would require schools that receive Safe and Drug-Free Schools and Communities Act funding to implement a comprehensive anti-bullying policy that enumerates categories often targeted by bullies, including race, religion, sexual orientation, gender identity/expression and others. It also requires states to include bullying and harassment data in their state-wide needs assessments reporting.

The bill is sponsored by Calif. Rep. Linda Sánchez, who is joined by lead cosponsors Fla. Rep Ileana Ros-Lehtinen and N.Y. Rep. Carolyn McCarthy among the 60 bipartisan cosponsors.

"Students cannot learn and teachers cannot teach in environments that aren't safe," Rep. McCarthy said at the hearing. "Schools should be sanctuaries for our children to learn and get the tools they need to succeed in life, not places where children have to worry about physical or emotional violence."
More below the fold.
Nearly two-thirds of middle and high school students (65%) said they had been bullied in school in the past year, according to From Teasing to Torment: School Climate in America, a 2005 report from GLSEN and Harris Interactive based on survey results from 3,450 secondary school students from across the United States.

"GLSEN thanks the subcommittees for taking the time to listen to an esteemed panel of students, parents and youth advocates who are leading the effort to find solutions to the endemic problem of bullying in America's schools," GLSEN Executive Director Eliza Byard said. "We also would like to thank Sirdeaner Walker for her courage in telling her story so that other families may not have to endure the unthinkable tragedy of losing a child due in part to bullying.

"We urge Congress to pass the Safe Schools Improvement Act. As a nation, we must begin to address school bullying as the public health risk that it is. A federal anti-bullying policy is an important step toward making sure that all students are safe in school."

Added Walker: "The most important thing I've learned is that bullying is not an inevitable part of growing up. It can be prevented. And there isn't a moment to lose."
The National Gay and Lesbian Task Force Action Fund submitted testimony in favor of the legislation. Executive Director Rea Carey:
"Schools should be places of safety, not fear. Yet, lesbian, gay, bisexual and transgender children and young adults, children and young adults who are perceived by peers to be LGBT, and the children of LGBT parents all remain at high risk of aggressive bullying and harassment. Sadly, the nation has recently witnessed many youth suicides that were caused by aggressive and unremitting school bullying targeted at a student's actual or perceived sexual orientation or gender identity. This year, for example, Carl Joseph Walker-Hoover, an 11-year-old in Massachusetts committed suicide because he faced daily and severe anti-gay bullying. As such examples demonstrate, unsafe schools can have profoundly destructive consequences.

"Bullying and harassment motivated by homophobia, biphobia and transphobia are national problems deserving of federal legislative attention. The Task Force Action Fund welcomes federal measures to increase school safety that are cognizant of the specific prejudices faced by LGBT students and families. As one such measure, we ask Congress to pass H.R. 2262, the Safe Schools Improvement Act, introduced by Rep. Linda Sanchez. The Safe Schools Improvement Act would help schools deal with bullying and harassment that target a student's actual or perceived identity or associations with persons or groups on the basis of race, color, national origin, sex, disability, sexual orientation, gender identity or religion. It would send a strong and clear message that schools have a duty to actively protect all students, regardless of sexual orientation or gender identity."