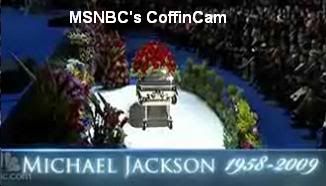 UPDATE: Bringing this up to the top of the page.
=============================================
UPDATE 2: no kidding about ghoulish: "After the private ceremony, Jackson's body will be taken to the singer's public memorial." What, is the body going to be on stage?!
UPDATE 3: OMFG. MSNBC is running a report updating the status of Bubbles the Chimp, now living in Florida. The reporter actually asked the zookeeper if she thought Bubbles understood Jackson was dead. I missed her answer because I was laughing too loud.
---
The wall-to-wall ghoulish coverage has begun. I had CNN on this AM and, while at least I had it on, all they covered was the Michael Jackson memorial service preparations from soup to nuts, with extra helpings of nuts.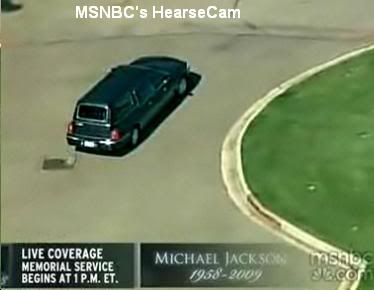 Good luck if you were scheduled to be a talking head on the newschannels on stories other than the King of Pop's worshipfest. You can head back to bed. God help us if we have to watch Pat Buchanan give commentary on the "festivities."
My question is what will the cable channels do if there is some kind of breaking event of significant magnitude? They've invested in getting all the satellite trucks and big reporters out there in L.A. to report on the inch-by-inch caravan of the Jackson family to the Staples Center and to interview various fans standing out there waiting to get in.
When the circus tent goes up today, feel free to hop in the chat room to discuss the insanity:
Related:

* Fritz's diary, "Michael Jackson The Sims 3 Character"