NYT covers violent 'law enforcement' raid at Fort Worth gay bar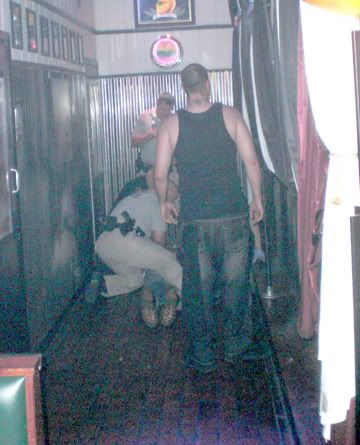 A major paper has pick up on this story, and capture the outrage over the Stonewall weekend police raid at the Rainbow Lounge in Fort Worth, Texas. In "A Raid at a Club in Texas Leaves a Man in the Hospital and Gay Advocates Angry," James McKinley, Jr. of the NYT captures the major issues at play and added a few more details about the event.
So many questions have been raised about the police account that on Friday afternoon, Mayor Mike Moncrief asked the United States attorney for the Northern District of Texas, James T. Jacks, to review the Police Department's investigation.

Tom Anable, a 55-year-old accountant who said he was in the bar during the raid, said that for more than a half-hour the officers entered the bar repeatedly in groups of three and escorted people out. Then around 1:40 a.m., he said, the officers started to get rougher, throwing one young man down hard on a pool table.

Minutes later, one of the state agents approached Mr. Gibson, who was standing on steps to a lounge at the back of the bar with a bottle of water in his hands, and tapped him on the shoulder, Mr. Anable said. Mr. Gibson turned and said, "Why?"

Then the officer, who has not been identified, twisted Mr. [Chad] Gibson's right arm behind his back, grabbed his neck, swung him off the steps and slammed his head into the wall of a hallway leading to the restrooms, Mr. Anable said. The agent then forced Mr. Gibson to the floor, Mr. Anable said.

"Gibson didn't touch the officer," Mr. Anable said. "He didn't grope him."
Angry allies and members of the LGBT community there have created a new organization, Fairness Fort Worth, to track the investigations and inquiries regarding the raid and plans a benefit concert to help those injured.
Related:
* Fort Worth Police Chief: yeah, that fag at the Rainbow Lounge deserved the beat-down
* News video: Ft. Worth Police gay-bashing at the Rainbow Lounge
* MSM coverage by The Fort Worth Star-Telegram
* Report by The Dallas Observer
* DKos: Breaking: Raid on Fort Worth Gay Bar
* There is also a Facebook page