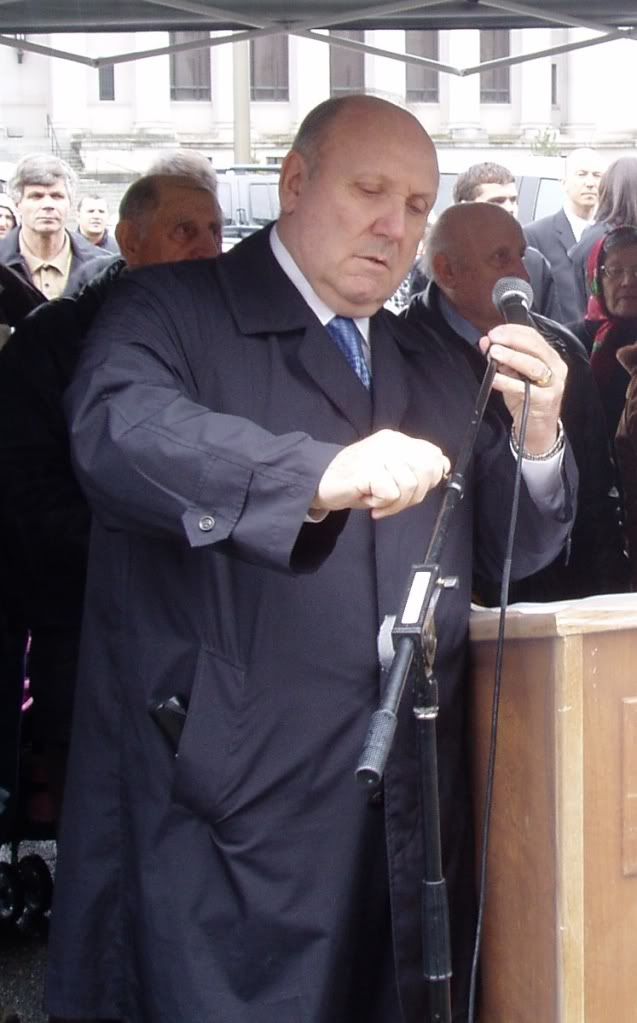 Oregonian Gary Randall has quite a history of reaching his sticky fingers over state lines and trying to manipulate Washington voters. He's most famous for his involvement in the FAILED but personally lucrative referendum campaign in 2006 against Washington's anti-discrimination law. And it is well known that he's promising to file a referendum in Washington to repeal this year's domestic partnership law. Like his previous referendum effort, this one is doomed to FAIL for many, many reasons.
But that's not the beginning and end of Oregon Gary's involvement in Washington electoral politics. Oregon Gary has been deeply involved in the campaigns of Washington legislators and judges. Judges! After the flip I summarize Gary's involvement in at least 3 Washington state PACs and dozens of judicial and legislative races.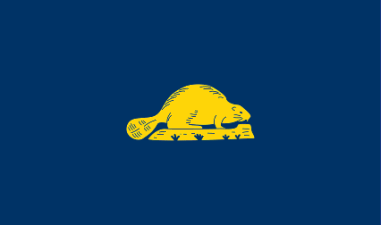 First, a history recap.
Faith and Freedom Foundation was founded by Gary Randall in October, 2003. (Lurleen: 2004, according to Gary's vanity website.) In July 2005, Gary was asked to join WERG (Washington Evangelicals for Responsible Government) as President of the board and Executive Director.

WERG had already made the decision to change the name, so the name Faith & Freedom was adopted and WERG joined Faith & Freedom Foundation as Faith & Freedom Network. The Network is the lobby and activist part of Faith & Freedom. The Foundation is the educational part of the organization.
I suppose "Responsible" had to be dropped from the organization's name when Oregon Gary was hired by Joe Fuiten to meddle in Washington state affairs. And yes, Joe Fuiten is the Bothell pastor who at that time was working to evict retired clergy from their homes.
Oregon Gary's Peck o' PACs

According to the Washington Public Disclosure Commission's database, Gary Randall has been an officer and/or campaign manager or money conduit for the following political actions committees (PACs) registered in Washington:

1. Committee for Religious Freedom

2. Committee for Judicial Restraint

3. Faith and Freedom PAC

I'll describe each PAC as it fits into the chronological narrative below.
2006 Statewide Primary

Oregon Gary's Committee for Religious Freedom was created in 2006 by Gary Randall and the evictor of retired clergy, Joe Fuiten. Gary was listed as the official campaign manager. It appears that the the PAC's reason for being was to allow a local building industry heavyweight to quietly shovel money into the advertising fund of industry lackey and state supreme court candidate, Stephen Johnson. Twenty-six thousand dollars of the $26,250 received by the PAC was donated by Larry and Diane Sundquist of Building Industry of Washington fame. BIAW is frequently involved in quasi-legal, union-busting, pro-GOP, anti-gay theocratic electoral shenanigans, and Larry Sundquist and Joe Fuiten sit together on the board of the local Focus on the Family affiliate. Just before the September 19th primary election, Committee for Religious Freedom shifted $25,000 of that money to Joe Fuitan's PAC, Committee for Judicial Restraint. The committee for Judicial Restraint used the funds to send out a "JUDGE MAILING" and stage anti-gay robo calls in support of supreme court candidates Stephen Johnson, John Groen and Jeanette Burrage.
In addition, Oregon Gary posted the Faith & Freedom Judicial Voter's Guide on his September 1, 2006 blog, along with the Focus on the Family ACTION Voter's Guide. The guide listed his picks for court of appeals judges as well as reiterated his supreme court recommendations.
Oregon Gary and his PACs FAILED to advance to the general election any of his picks who were in a two-way race in which he expressed a preference: John Groen LOST. Jeanette Burrage LOST. Jeff Teichert LOST. Brent Boger LOST.
Oregon Gary: KISS OF ELECTORAL DEATH
2006 General Election

Oregon Gary didn't stop trying to influence Washingtonians after the primaries were over. Here is the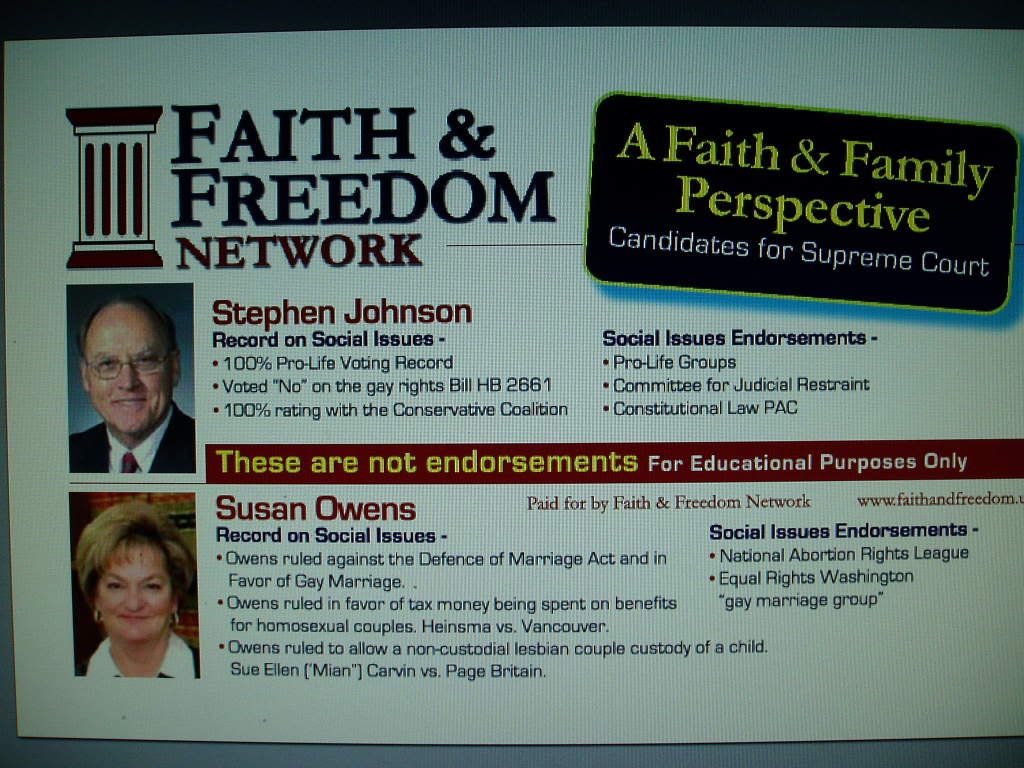 flier he posted on his October 2, 2006 blog telling Washingtonians which candidate for supreme court justice to vote for. Of course he continued to use Teh Gayz as a scare point.
Washington State Values Voters

Unfortunately, we value voters were not successful in replacing two of the Washington State Supreme Court Justices in the recent primary election.

However, there is still opportunity to replace one, Susan Owens, who has a long and consistent liberal, secularist voting record on the Court.

We can not endorse candidates through Faith and Freedom Network, and we do not, but we can educate voters. And this is what we have and will continue to do.

I am absolutely certain the gay marriage issue is going to resurface, even though the case has been completely and exhaustively aired here in Washington. I would not be surprised to see it come back this next year.

It will matter who sits on the State Supreme Court. We have one more opportunity in the general election next month….

It is very important that everyone who cares about values – votes. Would you be a catalyst among your friends, both at church and in the community, to be sure they get out and vote?

A judicial voter's guide on the Supreme Court race between Stephen Johnson and Susan Owens is available on our website. Please copy it and distribute it. Click here to download PDF file.

More voter information for Washington State will be posted on our site in the next few days.

Please let us know how we can help you.

_____________

Gary Randall

President

Faith & Freedom
Oregon Gary lived up to his promise of posting more voter information – he wasn't limiting himself to meddling in just our judicial elections. In his November 1, 2006 blog post he announced that "Washington State Voter's Guides now available on the website". Included in the array of voter directives was a list of "Individual Targeted Voter Guides" targeting the Johnson – Owens Supreme Court Justice race as well as ballot initiatives and state legislative races.
Washington State 2006 General Election

Voter Guides

2006 Ballot Measures (Christian Coalition)

2006 Congressional and Legislative Districts (Christian Coalition)

Washington Votes

Washington's Legislature at your fingertips. Check your legislator's voting record, or even stay updated by email as bills move through the legislature.

Individual Targeted Voter Guides

Johnson – Owens Voter Guide

Click here to download PDF Guide

District 17 – Vancouver

Click here to download PDF Guide

District 26 – Kitsap County and Western Pierce County

Click here to download PDF Guide

District 44 – Snohomish County

Click here to download PDF Guide

District 48 – Bellevue and Kirkland

Click here to download PDF Guide
Most of the links are now dead. Good thing for Google Cache so we can at least see who he was pushing! Although I'm uncertain which legislative candidates Oregon Gary was backing besides Ron Boehme, since Democrats won every single race he involved himself in, it's probably fair to assume that he FAILED in his legislative mission. And most importantly, Oregon Gary FAILED in getting his supreme court pick elected. Stephen Johnson LOST.
After the 2006 election season, the Committee for Religious Freedom went dormant until finally, on February 20, 2009 a contribution of $285.39 was made to Fuiten's Cedar Park Assembly of God church with the note "Charitable Contribution to close account".
2008 Statewide Primary

On January 7, 2007 Oregon Gary created The Faith & Freedom Political Action Committee. Gary named himself Chair and Faith & Freedom lobbyist Jon Russell was Vice Chair.
Small contributions dribbled in from 76 named donors, adding up to about $9,000 by the end of 2008. Only $2,750 of that would be divided among 13 political campaigns, all but $400 of it spent before the primaries. The remaining balance of $6,490 was spent on PAC expenses.
The major recipient of PAC expense payouts was Northern Concepts LLC. Northern Concepts LLC is owned by the Faith & Freedom PAC Vice Chair and former F&F lobbyist, Jon Russell. He and his wife reportedly "run the business from their home". The PAC paid Mr. Vice Chair $3,790 in "event planning" fees. The previous year, he had received a Warning Letter from the Public Disclosure Commission dated March 8, 2007 for failure to file his monthly lobbyist expense report (L-2) for January, 2007. Commission files relating to Jon's tenure with FFN contain several memos between himself and the Commissinon regarding his mistakes in depositing funds in the wrong accounts and failure to submit reports on time. For the latter he was assessed a fine on June 3, 2008.
Half of the candidates accepting Oregon Gary's PAC money won, and half lost. It is difficult to see how his PAC funds could have made much difference to the outcome, since the largest cumulative contribution to any candidate was $500, and most received single donations of $100 – $200.
Oregon Gary's PAC apparently endorsed legislative candidates via some sort of posting on the Faith & Freedom website. Reference to this is made in his Faith & Freedom PAC 2008 Washington State Judicial Recommendations. In the first paragraph of that document he mentions the PAC's "Washington State Primary Candidate endorsements" that were apparently available on the Faith & Freedom PAC website. However, since it appears that Gary is wiping his archives (August – November, 2008 have gone missing while I've been working on this diary), it is difficult to find the actual list. It is a fair assumption that the list is the same as the list of recipients of F&F PAC money.
Noteworthy in the introductory remarks to his Judicial Recommendations is the following statement:
[B]ecause of the volume of requests we have received, I have personally set aside time over the past couple of days and researched several resources on the judicial races.
So let me get this straight. Oregonian Gary Randall is meddling in something so important as the election of judges in Washington state, but only spends some time over a couple of days to throw together a voter list? Gary Randall is not a lawyer. Gary Randall is a preacher. Yet he feels qualified to "set aside time" to select judges for a neighboring state? Oh Gary, you shouldn't have. Some of the comments about various candidates that he sprinkled throughout the document would be hilarious if we weren't talking about something so vital as the justice system. Here are a few
Michael Bond has a good understanding of the Constitution.

Holly Hill has the support of women, race and NARAL.

Les Ponomarchuk is the current court commissioner. We do not know a lot about him or his judicial philosophy but it appears he is taking a more conservative approach in seeking endorsements.

Rob Lawrence-Berry appears to be well qualified and has a mainstream church background. However, David Elofson appears to be a little more conservative.
Real in-depth legal analysis there. I wish he would have expanded further on his point that Holly Hill "has the support of race".
One of Oregon Gary's judicial picks that he neglected to comment on, Michael Hecht, did actually win and is now a Pierce County Superior Court judge.


Judge Hecht was removed from responsibility and has been formally charged for multiple crimes
The state's Commission on Judicial Conduct on Wednesday charged Judge Michael A. Hecht with violating the state's judicial conduct code by allegedly exchanging cash and legal advice for sex, threatening two men, using racially insensitive language and engaging in unfair campaign conduct. […]

The commission contends Hecht:

• Paid cash to three men in exchange for sex numerous times between 1997 and 2008. The men are listed as Joseph H., Joseph P. and John M. in the charging document. Some of the alleged sex acts are alleged to have occurred when Joseph H. was a minor. All of the alleged encounters allegedly originated in downtown Tacoma and ended at Hecht's law office.

• Exchanged legal services for sex with another man – Bryan C. – once in 1996. That alleged encounter reportedly took place at Hecht's law office.

•Directed "threatening behavior" toward two men – Joseph H. and Albert Milliken – last summer after he "came to believe the two men were talking to others about respondent's conduct with young male prostitutes."

• Repeatedly used a racial slur during a personal conversation with Milo Lick, John Paterno and Guy Shepard in 2007.

• Stole some of his opponent's campaign signs during last year's election. Hecht defeated incumbent Judge Sergio Armijo during the August election.
Randall family values?
And So To Summarize…

Oregon Gary has meddled in at least two full election cycles in Washington State. In particular:

1. In 2006: he helped run the referendum campaign against Washington's anti-discrimination law; he created a PAC to fund advertising for 3 state supreme court candidates; he lobbied Washingtonians to vote for the candidates he selected to fill 3 supreme court positions, 3 court of appeals positions and an unknown number of state legislative seats in 4 legislative districts.

2. In 2008: he used the PAC he created in 2007 to help fund the election of approximately 10 state legislators; he lobbied Washingtonians to vote for the candidates he selected to fill almost 30 court positions and probably about a dozen legislative seats.

3. In 2009: he has promised to spearhead a referendum to repeal this year's domestic partnership law. On January 17, 2009, Oregon Gary filed an updated registration form for Faith & Freedom PAC naming Dan Swecker, a 2008 recipient of PAC funds, as the new Vice Chair. The PAC lies ready to receive new referendum funds, should Oregon Gary once again feel like telling Washington what's good for it.
He may have been more involved than this, but now that he is purging his website, it is becoming more difficult to follow his tracks. Nevertheless, there is enough evidence still out there to demonstrate that the Oregonian Gary Randall has been deeply involved in manipulating Washington voters to vote for certain judicial and legislative candidates, and on fundamental questions of civil equality in Washington state. Enough.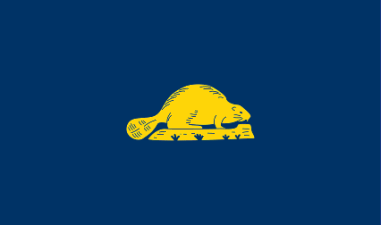 It's time for Washingtonians to tell Oregon Gary to pack it back to the beaver state. Every time he utters his pet terms "activist judge" and "judicial fiat", Washingtonians need to laugh him off his soapbox. Take it back to Oregon, Gary. We're through with you.
---
Cross-posted at Washblog.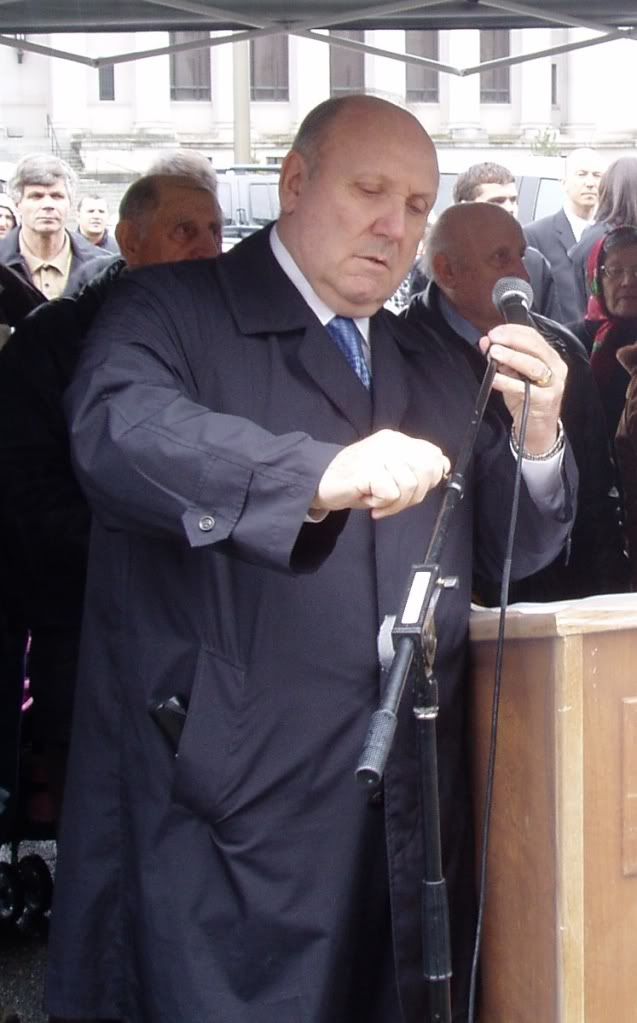 Oregonian Gary Randall has quite a history of reaching his sticky fingers over state lines and trying to manipulate Washington voters. He's most famous for his involvement in the FAILED but personally lucrative referendum campaign in 2006 against Washington's anti-discrimination law. And it is well known that he's promising to file a referendum in Washington to repeal this year's domestic partnership law. Like his previous referendum effort, this one is doomed to FAIL for many, many reasons.
But that's not the beginning and end of Oregon Gary's involvement in Washington electoral politics. Oregon Gary has been deeply involved in the campaigns of Washington legislators and judges. Judges! After the flip I summarize Gary's involvement in at least 3 Washington state PACs and dozens of judicial and legislative races. (more…)