Vermont Governor Jim Douglas announced at a special press confernce this afternoon that he will veto the marriage bill when it reaches his desk. The Governor has a long standing policy of not issuing veto threats but said that he did so in this case because he feels the issue is a distraction. Click here for audio of the announcement from Vermont Public Radio. it's unclear whether or not supporters will have the 100 votes needed to overide.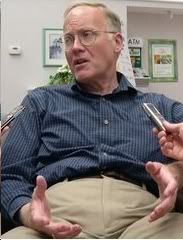 NOTE FROM PAM: Well, now we know the answer and look at this nonsense. From the Burlington Free Press:
"I believe our civil union law serves Vermont well …I believe that marriage should remain between a man and a woman. … I'm announcing that I intend to veto this legislation when it reaches my desk."

"The speculation about my decision has added to the anxiety of the moment, and further diverts attention from our most pressing issues, and I cannot allow that to happen. On such an intensely divisive issue as this, I expect all members will vote as their individual conscience dictates and in the best interest of their districts, and not as political leadership requires. That said, I'm sure that legislative leaders would not have advanced this bill if they didn't have the votes to override a veto. I will accept the outcome of their vote, either way.

"In the meantime, I'll turn my attention and energy away from this issue and back to the issue that matters most to Vermonters: Growing our economy and creating more jobs. I respect the passion and opinions of individuals on both sides of this debate, and hope that when the Legislature makes its decision, whatever the outcome may be, we can move our state forward and provide a bright future for our children and our grandchildren," he said.