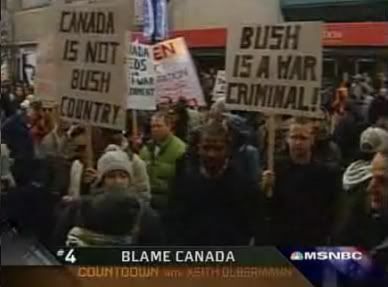 He thought that traveling to the Great White North for his first official speaking gig after defiling the White House was going to be smooth sailing. But alas, George W. Bush went to Calgary to blather about his eight years in office to the Chamber of Commerce (no press allowed) and got a greeting worthy of his tenure in office from more than 200 protesters. (Calgary Herald):
Dressed in suits and business casual, many of Calgary's elite were greeted by protesters yelling "shame on you" as they waited in the cold to enter the Telus Convention Centre to hear former U. S. president George W. Bush speak Tuesday afternoon.

…Tight security, and the subsequent wait, meant a lengthy line developed on Stephen Avenue for those holding the $400 tickets.

A handful of protesters took advantage of the stalled queue to hurl their displeasure with the former president directly at those waiting to hear Bush speak.

"Shame on you," yelled one man. "Give that money to the families of the deceased Iraqis and Afghanis. Shame on you, Canada."

In one display of disgust, protesters took turns hurling shoes at a poster of Bush — an action inspired by an Iraqi journalist who tossed his footwear at the real man in December. In that case, Bush managed to duck away.

Protester Orest Slepokura from Strathmore had a sign comparing Bush to disgraced U. S. financier Bernie Madoff.

"Of the two, I would say that Bernie Madoff comes off almost saintly by comparison," he said.
One person was arrested. Keith Olbermann shares his two cents about the Bush appearance. That's below the fold.
BONUS: Those $400 tickets enabled you to hear this wisdom from Bush:
"I'll sit here all day," Bush said. "I'm flattered people even want to hear me in the first place." He also joked that he's going to use his speeches to pay for his new home. "I actually paid for a house last fall. I think I'm the only American to have bought a house in the fall of 2008," he joked.
Nice to know his sorry ass is still as insensitive, pathologically narcissistic and blind about the damage he's done to this nation and its citizens while in office.
A note to our friends in Canada — the tab for the security operation during former Dear Leader's visit will come out of your pocket — the RCMP's budget.