No more foot-dragging, legislators. The latest results from a Public Policy Polling survey of North Carolinians show voters are ready to protect the state's students from bullying — all children, including those who face hostility on the basis of sexual orientation and gender identity or expression.
[T]he School Violence Prevention Act, has a lot more support from voters in the state. 69% express support for it. That number is consistent with a PPP survey conducted last summer dealing strictly with the controversial sexual orientation provision of the bill, which showed 72% support.

A majority of voters in every demographic group supports the bill, including 55% of self identified conservatives and 51% of Republicans.
Here is the question, as asked:
There is currently a proposal in the General Assembly that would require schools to protect children from bullying, including harassment based on their race, sexual orientation, and other categories. Do you think this provision should be passed into law? If yes, press 1. If no, press 2.

Yes 69%

No 31%
It may be hard for some of you out there to believe this, but there are wingnuts in our General Assembly who oppose the bill based on the "slippery slope" theory — that this would be the first time protections of any kind on the basis sexual orientation and gender identity would be recognized by state government and thus the floodgates will open to non-discrimination for all LGBTs in NC. We, as LGBT taxpayers footing their salaries, apparently don't deserve equal treatment under the law.
I guess they figure our next move is to submit a bill to legalize man-robot marriage.
More, plus some crosstabs, below the fold.Look at the broad support: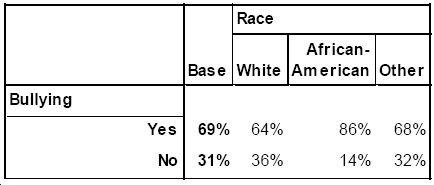 Here is the critical language of the frightening bill fundies are up against this time around:
"Bullying or harassing behavior includes, but is not limited to, acts reasonably perceived as being motivated by any actual or perceived differentiating characteristic, such as race, color, religion, ancestry, national origin, gender, socioeconomic status, academic status, gender identity or expression, physical appearance, sexual orientation, or mental, physical, developmental, or sensory disability, or by association with a person who has or is perceived to have one or more of these characteristics."
What's onerous about the opponents of the bill (H548, S526), despite this overwhelming support, is they'd rather see innocent schoolkids get their heads bashed in for being non-gender-conforming, for example, than think of the prospect of possibly extending rights to LGBTs one day, some time in the future. That's sick.
Look at the bigotry spewed by our state's arm of Focus on the Family last year (the bill, HB 1366 at the time, narrowly failed):
The Christian Action League is asking people on its mailing list to tell legislators to oppose it, and the N.C. Family Policy Council has written extensively on its view that homosexual rights groups are using school safety issues to promote a social agenda.

"This is a watershed issue, and if 'sexual orientation' is enacted into North Carolina law through HB 1366, it will serve as the basis for affirming deviant sexual behaviors throughout our state statutes," read a brief distributed by Bill Brooks, family policy council executive director.
Related:

* NC: video from the anti-bullying bill press conference

* Prevent School Violence North Carolina