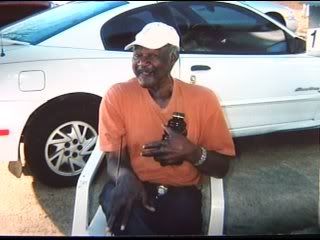 Post-racial America my *ss. This incident occurred in Homer, Louisiana. (Howard Witt, Chicago Tribune):
On the last afternoon of his life, Bernard Monroe was hosting a cookout for family and friends in front of his dilapidated home on Adams Street in this small northern Louisiana town.

Throat cancer had robbed the 73-year-old retired electric utility worker of his voice years ago, but family members said Monroe was clearly enjoying the commotion of a dozen of his grandchildren and great-grandchildren cavorting around him in the dusty, grassless yard.

Then the Homer police showed up, two white officers whose arrival caused the participants at the black family gathering to quickly fall silent. Within moments, Monroe lay dead, shot by one of the officers as his family looked on.
This issue is that the U.S. Justice Dept. is investigating a series of gun-downs of blacks by police around the country. There have been four cases of police officers accused of shooting blacks allegedly without any provocation. In the case of Bernard Monroe, four witnesses came forward to describe the incident. The police had arrived to talk to Monroe's son, who had a record, but didn't have any current warrants against him. When they asked to speak to Shawn Monroe, he ran into the hous, and then the officer, Tim Cox, chased him into the house. And then…
[T]he elder Monroe had started walking toward the front door, carrying only his drink bottle, to try to intervene. When Monroe got to the first step on the front porch, the witnesses said, Cox opened fire, striking him several times as adults and children stood nearby.

"He just shot him through the screen door," said Denise Nicholson, a family friend who said she was standing a few feet from Monroe. "After [Monroe] was on the ground, we kept asking the officer to call an ambulance, but all he did was get on his radio and say, 'Officer in distress.' "

As Monroe lay dying, the witnesses said, the second police officer, who has not been publicly identified, picked up a handgun that Monroe, an avid hunter, always kept in plain sight on the porch for protection. Using a police-issue blue latex glove, the officer grasped the gun by its handle, the witnesses said, and then ordered everyone to back away from the scene. The next thing they said they saw was the gun on the ground next to Monroe's body.
I've had enough of this BS — an elderly, unarmed man? No shouting for the person to step out of the house? More below the fold, including an interview with the Tribune's Howard Witt.African American Political Pundit says it all:
It's time for Federal agencies to investigate, prosecute and lock some bad cops up in Federal prison.How much can black men in America take? We have been taking this mess for too long.
We cannot progress as a nation until we examine the implicit biases that can result in someone shot/Tased/beaten to death by a person carrying a badge and lethal weapons in the name of public safety. It's discussed in the article.
Psychologists are stepping up research into the implicit, unconscious racial biases that may be driving such statistics and affecting police behavior.

"If in fact police have implicit biases-if they automatically associate blacks with crime-then that would be relevant to an officer in a split-second, shoot-or-don't-shoot situation," said Lorie Fridell, a criminology professor at the University of South Florida who is creating a new anti-bias police training program with funding from the Justice Department. "Is the officer more inclined to believe he sees a gun in the hand of a black person, rather than a cell phone? I think that is possible."