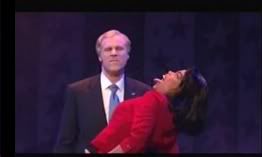 I don't know if you've seen comedian Will Ferrell's stage show "You're Welcome America-A Final Night With George W Bush," (taped here for an HBO special), but I beg you please protect your keyboards right now before clicking over to Crooks & Liars, where Ferrell explores the former president's relationship with Condi Rice.
Of course this could all be a twisted figment of "Bush's" imagination, given what else has been floating out there about the former secretary of state.
Meanwhile, a description of the show:
In the special, Ferrell will inhabit one of his favorite political characters from Saturday Night Live, President George W. Bush, assuming the guises of several "Ws" through the years, including the "cowboy" Bush, the "flight suit" Bush, and the (plain old) "suit" Bush. Along the way, Ferrell-as-Bush provides insights into the Bush's childhood, his time at Yale, his stint as a major-league baseball co-owner, his emergence as a political figure, and his cherished if checkered tenure in and (frequently) out of the White House.
Goodness knows what he will do with "flight suit Bush." His limited-run live show is on Broadway at the Cort Theater.