UPDATE: But wait, there's more…additional video below the fold. All copyright Jürgen Henn – http://11foot8.com.
I love it — this video captures the fun all of us who work in the Brightleaf Square buildings in downtown Durham get to hear at least once a month — trucks that are too tall careening down Gregson Street and slamming into the railroad overpass. Someone in the building actually set up a camera to capture the insanity and compiled a "best of" tape. You can see them all here:
http://www.youtube.com/user/yo…
I've actually only seen it happen live a couple of times, but I can clearly hear it from my office since I have a window and face that direction. The last time I recall it happening I was getting a cup of tea across the street at Alivia's and was talking to the person behind the counter and we heard the familiar "BOOM!" We turned around and kept on talking, lol.
The scary part is that up until a few years ago, the trucks slammed directly into the bridge/overpass. Since this surely placed the trains at risk, they set up steel beams just before the bridge so the dumbasses could slam into that. And what is ridiculous is that there is a big height sign on the beam (11′ 8″) and not long ago they added flashing lights — and these drivers still keep crashing into it.Here's another view of the railroad bridge: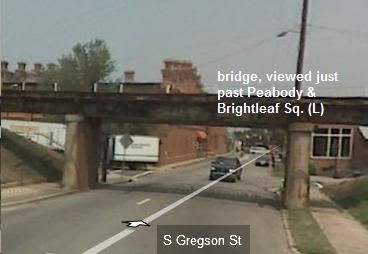 I also forgot to add that my colleagues and I have many a tale about cars getting into accidents at and around this intersection. It's cursed. In this particular video, rubberneckers at one of the truck accidents bite it.
"Rough day at Gregson and Peabody – first one car crashes into the utility pole at the train trestle, then rubberneckers rear-end each other. The cops show up after 5 Minutes, a fire truck and ambulance a bit later. It did not look like anyone was seriously injured."



"This truck did not go fast enough to make it all the way through, so it got stuck under the railroad trestle. It took almost 2 hours and a heavy duty tow truck to get it out."
Hat tip, Bull City Rising.