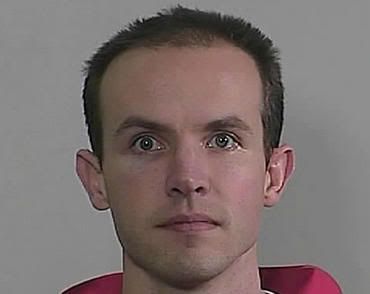 Would you want this man ministering to your child? Another "Christian" pervert on the loose. On March 6, Benjamin Douglas Caldwell, a youth pastor and athletic director at High Point, NC's Hayworth Christian School was busted for statutory rape and indecent liberties with a minor after a 911 call came in reporting a sexual assault. And it wasn't only one incident. (Greensboro N&R):
An investigation discovered assaults had been taking place over the past three months, police said in a press release.

When interviewed by detectives, Caldwell admitted to multiple counts of statutory rape, statutory sex offense and taking indecent liberties with a minor, according to police.

Caldwell was charged with 6 counts of statutory rape of a 14-year-old, three counts of statutory sex offense of a 14-year-old and eight counts of taking indecent liberties with a minor.
But wait, there's more — on March 10, he was rearrested after posting bond on 19 additional sex crime charges. WWJD?
WXII 12 News video: