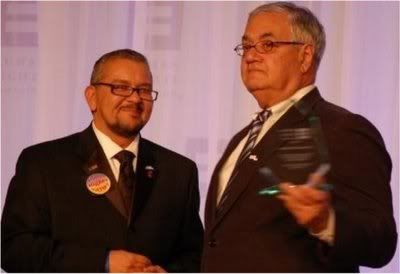 It's great to see the quite marvelous Diego Sanchez, Barney Frank's new legislative assistant, get some ink in a profile over at The Hill.
Appearance matters to Diego Sanchez, whose black blazer, blue jeans and gold-striped tie are worn confidently. A neatly manicured goatee, mustache and close-cropped silver hair frame the 51-year-olds smile. T

he newest addition to Rep. Barney Franks (D-Mass.) staff, Sanchez also boasts an impeccable résumé. Named one of the 100 most powerful Latinos in corporate America by Hispanic Business magazine, Sanchez carries 29 years of experience in corporate public relations, diversity management and healthcare policy work.

But what the new legislative aides Capitol colleagues may not know is that Sanchez was born a female. Sanchez is the only University of Georgia letterman known to have earned the letter on the womens tennis team. From an early age, Sanchez wasnt comfortable being a girl. I spent lots of years feeling like I had just feasted on that Thanksgiving meal and then was told that it was time for the family bathing-suit fashion show, Sanchez said. And its not that you look huge, its that you feel like you look huge. I looked like a very not-good-looking woman; I was not a pretty girl, and I felt like I was a man.
How's that for an opening? A lot of Capitol Hill eyes are going to get a good look at what it's like to be transgender, as the profile is quite long and Diego is very forthcoming with personal insights, and the piece covers the political groundbreaking as well. It also looks like Diego's already part of the DC Crackberry crowd.
Sanchez carries two cell phones, a BlackBerry and a personal phone that has had the same number since the advent of cell phones. The aide says the cell number will remain the same because people in the LGBT community give it out to those in trouble – whether they're homeless because they've just disclosed themselves to their families or whether they've just lost their job because of disclosing themselves. Sanchez never plans to stop taking the calls.

"Every day when I come through the metal detectors and put the cell phones in the bin I thank God because I know so many people like me who do not get to go to work every day," Sanchez said.

"It's not something that I make up. I know people who have lost their jobs the minute they disclosed they were either transitioning or were transgender."