NOTE FROM PAM: You HAVE to read this ridiculous release put out yesterday by the LDS whining about Big Love — and gays as well:
In recent months, some gay activists have barraged the media with accusations about "hateful" attitudes of Latter-day Saints in supporting Proposition 8 in California, which maintained the traditional definition of marriage. They even organized a protest march around the Salt Lake Temple. Again, the Church has refused to be goaded into a Mormons versus gays battle and has simply stated its position in tones that are reasonable and respectful. Meanwhile, missionary work and Church members in California remain as robust and vibrant as ever, and support for the Church has come from many unexpected quarters – including some former critics and other churches.
---
"There's gonna be lies, and secrets, and discoveries, and problems. Television!"
And it looks like Tom has now delivered on his promise: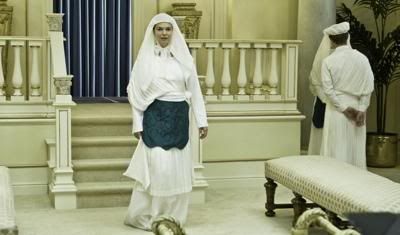 —— Forwarded Message

From: Sonja Eddings Brown /sebmedia@msn.com/

Date: Sunday, March 08, 2009 9:49 PM

To: Chino Blanco

Subject: We do not want to increase the exposure to Big Love by responding to HBO
Public Affairs Representatives:
Many of you will see or hear about the impending broadcast of LDS Temple ceremonies and exploitation of our sacred temple clothes by HBO "Big Love" this week. TV Guide will deliver an ad showing one of the "Big Love" polygamist wives dressed in full temple clothes. It is already circulating on the internet. As has been their practice, the creators of "Big Love" hijack our customs and sacred symbols and misrepresent them in settings of their own making. Please be aware that the executives of HBO made a commitment to the LDS Church at the outset of "Big Love" that they would never desecrate our sacred rites or clothing in promotion or in their drama.
Our Church leaders are fully informed and are considering whether to dignify the show with a response.
The head writer of "Big Love" this season, is Dustin Black, the recent Oscar-winner for "Milk." Raised a Mormon, he is clearly versed in our culture.
Brothers and Sisters, "Big Love" is not a ratings winner and we don't wish to build their ratings for them. TV Guide does not experience the readership it once had. Some of your friends and neighbors will see the images in print and see our temple ceremonies acted out in the drama. Perhaps the greatest position of strength for us, is to stand by our beliefs and teach the gospel. No, HBO does not represent accurately the sacred dress or beliefs or ceremonies of the LDS Church. Yes, like the Catholics, the Jews, the Muslims, the Buddhists and many other faiths, we do have some sacred ceremonial clothing for our Temples.
Our Temples are places where we unite our families forever. They are places where we go to learn the highest principles of character, honor, and devotion to God. That's what we can share with our neighbors and friends, and that kind of answer will no doubt….satisfy their questions.
Unless otherwise directed, at this sensitive time, I suggest that Public Affairs leaders NOT urge response to the TV Guide ad, or to the HBO program…..and avoid increasing the show's ratings or attention.
According to industry sources, "Big Love" will end this season.
Sincerely,

Sonja Eddings Brown

Media Specialist

Southern California Public Affairs Council

(818) 993-1409
* Not to question Sonja's "sources," but HBO has ordered a fourth season of "Big Love." Production will begin later this year, with Season 4 episodes debuting in 2010.
** Fun fact: "Big Love" averages five million viewers.
*** Tinfoil hat fun: Per KIDK's news report, go to http://www.tvguidemagsales.com/ and click on "You've Gotta See This Week's Issue…" in the lower-left corner. Nada. Did somebody deep-six the previously available PDF version of this week's issue of "TV Guide"?
All fun facts and CTs aside: watching that news report, I had to shake my head at this line from the LDS church's statement regarding Big Love Episode 33 aka Outer Darkness:
"Certainly church members are offended when their most sacred practices are misrepresented or presented without context or understanding."
I remember my first trip to the temple, and I'm not sure there's any context in which I could begin to understand that experience in a positive light. That said, I'm sure there are many faithful LDS who can and do, and to them I'd ask: is there any context in which a secular portrayal of your temple garb or ceremonies would not amount to desecration?
Digg it: http://digg.com/television/Mormons_flip_out_over_HBO_s_Big_Love