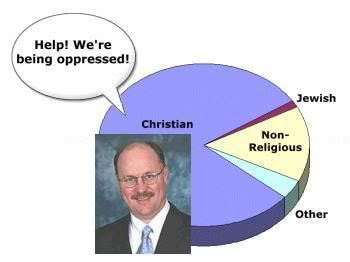 Hoo-boy, the fundie eruption from Tupelo Tim Wildmon and the AFA about quelling "Christian" free speech should come shortly. WOOD-TV, which was going to air the insulting, inaccurate anti-gay American Family Association propaganda piece "Silencing Christians" (see my prior post, with the video), has decided it won't air it. An offer to broadcast it at a graveyard time (3PM on a Saturday), was greeted with silence by the AFA, so the program will not see the light of day on the airwaves in Grand Rapids.
"Speechless: Silencing Christians" was scheduled to air Monday at 7 p.m ., in the slot immediately before President Barack Obama's prime time press conference. The program was pulled from that slot.

The producers were contacted and offered another time slot.

In a statement Wednesday, WOOD/WOTV/WXSP General Manager Diane Kniowski said the offer is now off the table.

"We made a gesture of the 2-3 p.m. Saturday time period. It's been 24 hours and we had no response," Kniowski said. "Our station is being bombarded with calls and messages, and we find ourselves in the middle of someone else's fight. Ours was a fair offer and we are removing ourselves from this matter."
As I said on Monday, this garbage is the kind of thing we're going to see from the fundies as they try to poison the well and foment homophobia as legislation goes before Congress. Earlier this afternoon, HRC jumped into the fray, calling for people to call WOOD to ask that the program not air and echoing what we discussed on the Blend about the motivations for this tactic by the AFA.
Make no mistake: this is the opening salvo in a coming battle over pro-equality legislation.

Just as we are on the cusp of historic change – a federal hate crimes law, protections for LGBT workers against job discrimination – extremist groups like the AFA are launching a well-funded national campaign of hatred and fear to halt our progress.

This program recycles familiar lies: that hate crime laws will "do away with our freedom of speech," or that pastors will be "criminalized for sharing the love of Jesus Christ." (In fact, the proposed federal hate crimes law explicitly states that it only applies to physical violence – not speech.)
HRC also made a video featuring Harry Knox, director of HRC's Religion and Faith program, to counter the AFA's actions. >HRC also released a video featuring Harry Knox, director of HRC's Religion and Faith program, to counter the AFA's actions. But WOOD-TV didn't want to have a dog in this hunt, so it booted the bigoted, fact-free programming.
UPDATE: Here you go…from AFA's "news" organ, One News Now:
Christian TV special being stifled

According to the website SilencingChristians.com, the majority of Americans get their information about the homosexual movement from Hollywood and the secular news media — outlets that deliver what AFA says is a message "tainted by pro-homosexual propaganda." That is why the pro-family group produced the 14-episode Speechless series that initially aired on the INSP Network, and then put together a one-hour special based on the series.

AFA is now buying prime-time slots on the nation's television stations to present that special to provide factual, Christian-based information on the topic. But the pro-family group reports it has run up against blatant "silencing" of that message. "There's a real threat to our First Amendment and free-speech rights because Christians are being shut down and shut out and shut up by the very people who say they champion freedom of speech," asserts AFA president Tim Wildmon.

…Wildmon sees outright irony in what is happening. "It's ironic that the very issue we're bringing up — that Christians are being rendered speechless when they talk about this issue — is actually happening to us when it comes to the program itself," he observes.
Hat tip, Gary in Battle Creek.