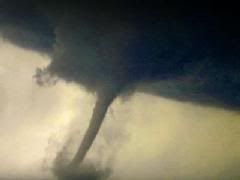 Tornado Confirmed Near Oklahoma City. Unfortunately, there's no word that Glinda the Good Witch dropped a house on a certain homo-hating, illegal pistol-packing legislator.*
More than a month away from the traditional start of the state's severe weather season, a tornado touched down in Oklahoma on Tuesday.

Tornado sirens were activated, and television news video appeared to show a tornado and debris in the air in a rural area. School children were being kept in locked-down schools until the storm passed.

Damage was confirmed at a Chuck-E-Cheese pizza restaurant, Oklahoma City TV station KOCO reported. The storm also caused damage across northwestern parts of Oklahoma City, knocking down power lines and damaging structures.
I guess God also hates Chuck-E-Cheese.
* I don't wish harm on the woman; so you fundies out there keep your panties from bunching — it's called dark humor.