Looks like the circle of supporters of Bishop Richard Williamson will soon shrink to the neo-Nazis and extremists — and Pope Benedict. (CNN):
The views of Bishop Richard Williamson, who has led the seminary in La Reja since 2003, do not reflect those of The Society of St. Pius X, said Christian Bouchacourt, head of its Latin American chapter.

"It's obvious that a Catholic bishop cannot talk with the ecclesiastical authority, but to things related to faith and morality," Bouchacourt said in a written statement.

Williamson, shortly before the pope lifted his excommunication, denied the Nazis had systematically murdered 6 million Jews during World War II.

In his blog Saturday, Williamson, referring to himself, posted a note, saying, "His Excellency is neither dead, dying, nor retired."
And German Chancellor Angela Merkel isn't buying the flaming pile of excuse crap being shoveled out of the Vatican. She picked up the phone and called Papa Ratzi directly, knowing she'd get nowhere.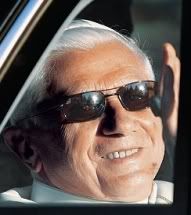 Earlier Sunday, German Chancellor Angela Merkel phoned Pope Benedict about the issue, though neither side seemed to have shifted its position over Williamson.

"It was a very constructive conversation," the German government and the Vatican said in a joint statement about the call. Merkel and the pope expressed respect for each other's opinion, the release said — diplomatic-speak for saying neither side budged.
Related:

* Papa Ratzi's Holocaust denier: I'll review evidence – but I won't visit Auschwitz

* Bill Donohue: leave Papa Ratzi alone – Germans reek with guilt over Holocaust

* Pope Benedict lifts excommunication of Holocaust denier