As the GOP strokes itself with glee in its attempt to undercut the stimulus package for political gain, look at what the tax break, spend and warmongering economy of their former Dear Leader has wrought just in the last year — 3.5 million jobs have vanished.
Jobless rate jumps to 7.6 percent, 598K jobs lost (AP):
Recession-battered employers eliminated 598,000 jobs in January, the most since the end of 1974, and catapulted the unemployment rate to 7.6 percent. The grim figures were further proof that the nation's job climate is deteriorating at an alarming clip with no end in sight.

The Labor Department's report, released Friday, showed the terrible toll the drawn-out recession is having on workers and companies. It also puts even more pressure on Congress and President Barack Obama's administration to revive the economy through a stimulus package and a revamped financial bailout plan, both of which are nearing completion.

The latest net total of job losses was far worse than the 524,000 that economists expected. Job reductions in November and December also were deeper than previously reported.

With cost-cutting employers in no mood to hire, the unemployment rate bolted to 7.6 percent in January, the highest since September 1992. The increase in the jobless rate from 7.2 percent in December also was worse than the 7.5 percent rate economists expected.

…The average time it took for an unemployed person to find any job – full or part time – rose to 19.8 weeks in January, compared with 17.5 weeks a year ago, underscoring the increasing difficulty the out-of-work are having in finding a new job.
Some other numbers for the Republicans to ponder as they dick around.
* Factories slashed 207,000 jobs in January, the largest one-month drop since October 1982

* Construction companies got rid of 111,000 jobs.

* Professional and business services chopped 121,000 positions.

* Retailers eliminated 45,000 jobs.

* Leisure and hospitality axed 28,000 slots.

* 598,000 non farm payroll positions lost on a seasonally adjusted basis.

* 2,647 unemployed for more than 6 months.
Oh man, here's a compilation video from Think Progress showing how Senate Republicans don't see a need to act promptly (or have any bright ideas for that matter). My remaining Republican do-nothing Senator Richard Burr and the Palmetto State queen are among those weighing in.
LINDSEY GRAHAM (R-SC): We do not need any more news conferences. What we need is getting more than 16 people in a room. We need to slow down, take a timeout, and get it right.

ROGER WICKER (R-MI): As Thomas Jefferson reminded Americans in his day – and I quote – "Delay is preferable to error." Let's not rush into doing this the wrong way.

JOHN ENSIGN (R-NV): So we need to act much more responsibly than this bill acts. It's still time. There is no hurry.

TOM COBURN (R-OK): There's no reason for us to hurry up, number one. There's no reason for us not to look at every area of this bill and make sure the american people know about it.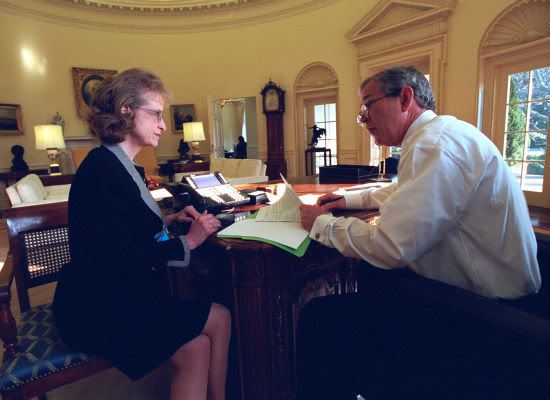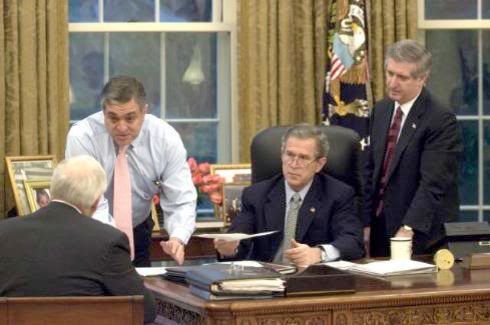 BONUS BRASS BALLS: Former Chief of Staff Andy Card whines about President Obama not wearing a jacket and tie at all times in the White House (as if Dear Leader always did — ha — see this slideshow at Huff Post that proves Card and other cranky GOP babies are lying). LEFT: A jacketless President George W. Bush signs forms with staff secretary Harriet Miers in the Oval Office on January 22, 2001…two days after his inauguration. And as Jamison Foster at County Fair notes, Card is caught in a baldface lie since he's photographed right next to Bush as George Tenet stands there without a jacket on (RIGHT).
So while Card tries to change the subject from the flailing economy to this BS:
"The Oval Office symbolizes…the Constitution, the hopes and dreams, and I'm going to say democracy. And when you have a dress code in the Supreme Court and a dress code on the floor of the Senate, floor of the House, I think it's appropriate to have an expectation that there will be a dress code that respects the office of the President."

Mr. Card went on to add that, while he would not criticize Mr. Obama for his appearance, "I do expect him to send the message that people who are going to be in the Oval Office should treat the office with the respect that it has earned over history."
He needs to think about how Bush and Cheney, even if they were in a suit and tie 24/7, did far worse in terms of respecting and honoring this country by sh*tting on and torching the Constitution for the last eight years.