Michael Steele elected as RNC chairman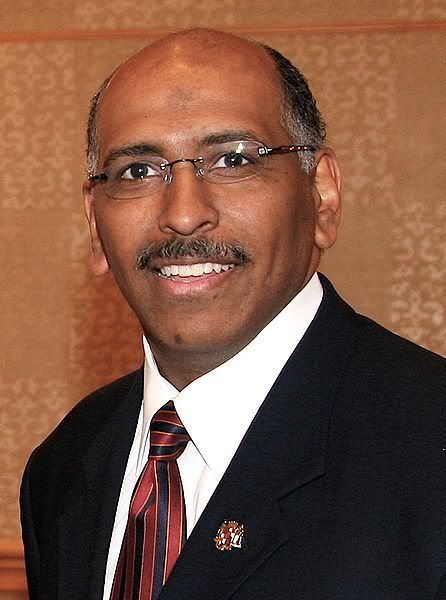 Well, lookee here — the Republicans did decide to go with some leadership color for window dressing — Michael Steele — to try to rebuild a party with a base of aging, white, undereducated bigots. Mr. Steele has a big job ahead. I almost feel sorry for him.
It took six ballots, but it looks like the fringe right didn't win out on this pick, because Ken Blackwell, the candidate of choice for the social whackjobs conservatives, was dragging up the rear in the vote count. What's still kind of scary is the two men left standing at the end represented almost polar opposites. Katon Dawson, a Southerner who was a member of an all-white country club until last year, and Steele, the former Maryland Lt. Governor who is moderate by comparison was recently given the gay-bait-by-association LCR smear by rivals. (Political Base):
This is a noteworthy development since Steele knocked-off the GOP's institutional candidate who is especially close to Senate Minority Leader Mitch McConnell (Duncan), a white Southerner (Dawson), and the man who many staunch conservatives were backing (Blackwell).

Steele was hardly an A-tier candidate when the process began, but it's noteworthy that a majority of GOP members abandoned many of their core groups (party insiders, Southerners, conservatives) to go with a black man from Maryland. Was it simply a reaction to America electing a black president or a real tectonic shift for the GOP. Not sure.

Now, Rush Limbaugh has a black deputy. How fitting…
Here's his acceptance speech:


CHAIRMAN STEELE: Thank you very much. As a little boy growing up in this town, this is awesome. [applause]

It is with a great deal of humility and a sense of service that I accept and appreciate and thank all of you for the opportunity to serve as the next national chairman of our very proud, our very strong, and our very, very hard-working Republican National Committee. [applause]

Thank you. To our friends, to those who support us, to those who believe in the ideals, those conservative principles that made us the strong and proud party that we are, to Americans who believe in the future of this country, to those who stand in difference with us, it is time for something completely different. And we're going to bring it to them. [applause]

We're going to bring, we're going to bring this party to every corner, every boardroom, every neighborhood, every community, and we're going to say to friend and foe alike, we want you to be a part of us, we want you to work with us, and for those of you who wish to obstruct, get ready to get knocked over. [applause]

So, I want to thank all of you especially. I remember sitting on his body in 2000 and in 2002, and I never thought this day would come. I want to thank especially my friends in the territories who, I can assure you as I assure all of you; you will be a part of helping us build and grow this party in a way we have never seen before. [applause]

To my friends in the Northeast, get ready, baby, it is time to turn it on and work, and work to do what we always do well – and that is win. We are going to win again in the Northeast. We're going to continue to win in the South. We are going to win with a new storm in the Midwest. And we're going to get to the West, we're going to lock it down, and we're going to win there too. [applause]

This is our opportunity. This is our opportunity. I cannot do this by myself. As I said to so many of you when we met, this is about empowering you, our chairman, the national committeemen, the national committeewomen, to lead this party, to grow this party, to strengthen this party, we stand proud as the conservative party of the United States. And we will make sure that we work hard to make sure those principles, those values that have made us the party of Lincoln are part of the issues, are part of the policies, are part of helping set a new direction for this country. We will cede no ground to anyone on matters of principle, on matters that matter to the people of this country. So my first official act as your new chairman is to end this speech right now. [applause]

Because we have a few more races to do. To fill out the leadership team that you will select to lead you the next two years. I look forward to visiting all of you in your neighborhoods, in your backyards, as we grow and build the republican party of this country. Thank you, again, for this honor. God bless you, god bless our party. [applause]
So what do we know about Steele? Maryland resident Judd Legum, of Legum's New Line, already has a nice "5 Facts About The New RNC Chairman" post up.
1. Steele compared stem cell research to Nazi experiments during the Holocaust.

2. Steele bused in homeless African Americans from Philadelphia to distribute literature in inner-city Baltimore that featured a "Sample Democratic Ballot" with votes for Steele and former Gov. Bob Ehrlich, along with photos of prominent black Democrats.

3. Steele once described that "R" next to his name as a "scarlet letter," complaining that being a Republican was hurting his electoral chances.

4. Steele was endorsed by Mike Tyson during his run for Senate. When Tyson, who used to be married to Steele's half sister, pleaded no contest to assault in Montgomery County in 1998, Steele was on hand to support him.

5. Steele defended former Gov. Bob Ehrlich's decision to hold a $100,000 fundraiser at a country club that did not allow non-white members, saying that the club's membership's policies were "not an issue" because "I don't play golf."
And who can forget Steele's bogus flying Oreos story? That's below the fold.My favorite Steele story dates back to 2005, when he made a ridiculous claim that he was on the receiving end of a race-baiting rainshower of Oreo cookies, marking him as a sell-out. Here's a blast from the Blend past — "Who's race-baiting now – Steele's phony Oreo-pelting story", as reported by the Baltimore Sun:
Gov. Robert L. Ehrlich Jr. said yesterday that he is angry at "revisionism" from political opponents who question a much-repeated story about Lt. Gov. Michael S. Steele being pelted with Oreos during a 2002 campaign debate in Baltimore.

…Speaking on Stateline with the Governor on WBAL-AM yesterday, Ehrlich said he would not tolerate questions about the veracity of the incident.

…Paul Schurick, Ehrlich's communications director, said last week that he saw people passing out packages of the cookies outside Morgan State University's fine arts center before the debate and that when Steele entered the auditorium about 15 minutes before the start, people let fly with the cookies.

"It was raining Oreos," Schurick said. "They were thick in the air like locusts. I was there. It was very real. It wasn't subtle."

As for those who question the story, Ehrlich said yesterday: "They're not going to be able now to reinvent something that a lot of people saw. Just go ask people who were there."

…"It didn't happen here," said Vander Harris, operations manager of the Murphy Fine Arts Building at Morgan State. "I was in on the cleanup, and we found no cookies or anything else abnormal. There were no Oreo cookies thrown."

The incident is said to have occurred when Steele walked to his seat before the debate started, not during the event on stage when it would have been captured on video. Newspaper articles and television news reports from that night didn't mention it, and representatives of the news departments at television stations WBAL, WJZ and WMAR and Maryland Public Television said they have no video of the incident.
Alan Colmes brought up the inconsistencies in Steele's version of the Oreo Incident (Media Matters):
COLMES: Let me ask you this. You were — there was a story about you being "pelted" was the word used, with Oreo cookies, which is a terrible thing. It shouldn't happen.

STEELE: Yeah.

COLMES: And then the Associated Press said that as you left this particular debate where this allegedly happened, there were Oreos rolled up on the floor and that pelting didn't exactly take place. How would you describe what actually happened?

STEELE: Well, what actually — and, you know, let's just be clear about what happened since I was there. When I finished — when we finished the debate, this was for the debate for Governor Ehrlich and myself for this office in 2002.

When the debate was over, I was leaving. As I was leaving the auditorium, I noticed at my feet Oreo cookies, and they were there. There were two or three there. I turned to a friend and said, "Got milk?" You know, I was like, "Hey, what's up with this?"
***
Reaction and comment about Steele and LGBT rights by National Stonewall Dems:
Stonewall Democrats Question Troubling History of RNC Chair Michael Steele Elected RNC Chair, Maintains a History of Anti-Equality Activism

Washington, DC – Today, the National Stonewall Democrats warned of the troubling record of Michael Steele on issues of equality. Steele, who was elected today as the new Chair of the Republican National Committee (RNC) is the former Lt. Governor of Maryland and former Chair of the Maryland Republican Party. In those two positions, Steele often rallied his party to pursue anti-equality positions in spite of overtures to moderate voters.

"Although there were candidates that were not selected for RNC Chair with stronger anti-equality credentials than Michael Steele, which shows hope for the party, we should carefully consider his record as the Republican Party moves forward. The Republican Party has a troubling history of anti-equality activism," said Jon Hoadley, Executive Director. "Unfortunately, Michael Steele has been a part of that record. Each time that he has promised voters a new tone in politics he has also taken steps to solidify the anti-LGBT positions of his own party. Voters should be very wary of his new role as Republican National Committee Chair. While the priority of Stonewall Democrats is on improving the Democratic Party and electing more pro-equality Democrats, we will keep a watchful eye on the GOP during this time."

In the absence of a Republican president or congressional majority leaders, the Chair of the Republican National Committee maintains great leeway in shaping the policy of the Republican Party. Peter Hanby of CNN notes that "with Republicans out of the White House and in the minority in both houses of Congress for the first time since 1994, the new chairman will have an uncommonly powerful role (RNC Race Still Wide Open, 01/29/2009)." Steele's advocacy for anti-equality positions hints that the Republican Party will continue the same divisive path which led to dramatic electoral losses in the 2006 and 2008 election cycles.

During his 2006 campaign for U.S. Senate, the pro-equality group Equality Maryland warned voters that Steele was waging "an anti-gay Senate campaign" (Steele Rallies Against Gay Marriage at Gathering, Washington Blade, 05/19/2006). As Lt. Governor of Maryland, Steele made himself a public advocate for the Alliance for Marriage, a radical anti-marriage group which initiated efforts to pass a federal constitutional amendment to bar same-sex couples the freedom to marry. In 2005, Steele also headlined a "Defend Marriage Rally" in an attempt to pressure the state legislature to pass a similar amendment, although it was ultimately defeated.
Oliver Willis has a huge Michael Steele's greatest hits file.