MA: Man targeted non-whites, Jews, to curb white extinction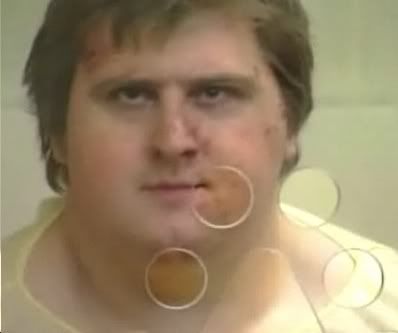 Who said we've reached post-racial status here in the U.S.? Apparently the word didn't get out to this guy in Brockton, MA.
A Brockton man accused in a rape and double murder allegedly told police he intended to kill as many non-whites as possible, then kill himself, in what he called a fight "for a dying race."

Keith Luke, 22, pleaded not guilty Thursday in Brockton District Court, where he was ordered held without bail and sent to Bridgewater State Hospital for evaluation.

According to a police report, Luke told police he was "fighting extinction" of the white race and had stockpiled 200 rounds of ammunition to kill blacks, Hispanics and Jews. He told police he planned to eventually go to a synagogue or school near his home and "kill as many Jews as possible during bingo night," the report said.

…The 18-page report by Brockton and State Police described Luke an obese, white man who lived with his mother and frequently surfed through racial propaganda on the Internet.
Luke also said that he planned to shoot himself in the head after the rampage. His attorney asked that Luke undergo a psychiatric evaluation.
Hat tip to Carlo Baca, who commented:
Despite the claims of a post-racial America, the presidential campaign of Barack Obama did more than stir latent racism out into the open. Cries of 'kill him' and 'terrorist' during the McCain/Palin rallies, effigies of Obama hanging by a noose, and general noose imagery surfacing across the country suggest something more pernicious is rising out of the muck stirred by those persons antagonistic about an African American President taking root in the White House. White racists (and some non-white) apparently see Obama's presidential win as an attack on their way of life and so they're responding in-kind.

Video is below the fold.