Half of life is just showing up. To the thousands who came out to the mall on Saturday to protest prop 8, thank you. I loved seeing all of you and I hope that this is just the beginning for all the real work that needs to be done. We have to remember today, because this needs to happen again, only next we'll be protesting before, not after, the votes are in. We have to recommit to canvassing and phonebanking when it's not sexy to do so.
As my friends recover from this long national election, I'm packing my bags to go to Georgia, where there's still an undecided Senate race. When I get back, the work is not over, Virginia state congressional races are in 2009 and we have to start now. Everything is linked. My work for progressive candidates helps the movement for marriage equality.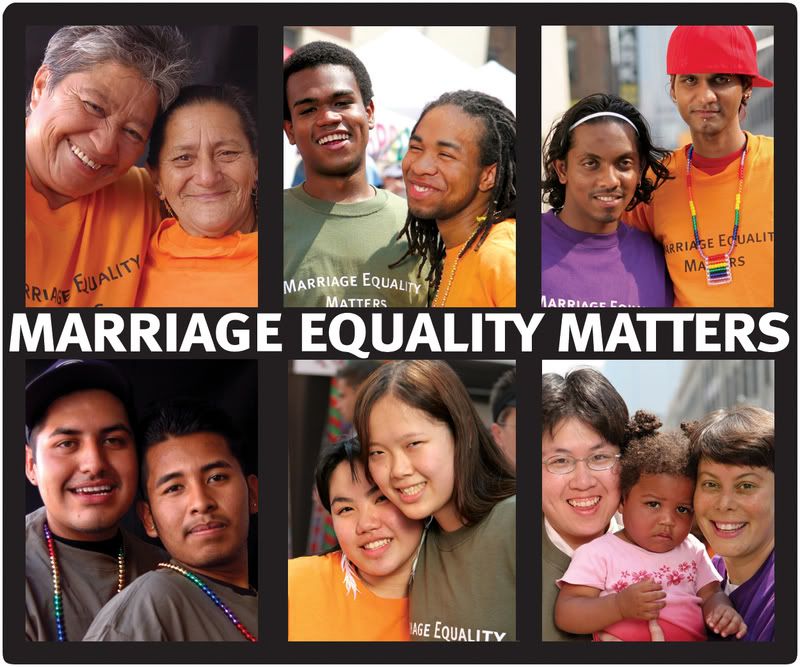 The election being over now means that the community I saw spring up from progressive campaigns this cycle must continue to grow. There are very terrifying times. When majorities begin to dismantle civil rights as we saw in California, we know we have a problem. When hundreds of billions of dollars of economic rescue packages are now being labeled as having "little impact", we know we have a problem.
I no longer feel anger at any of this. I just feel a drive to continue on, to march on, and to climb over the defeats, the hurdles, the setbacks and make it to the America I know and love.
I feel empowered because I stood up and had my voice heard. Even in one of the most stratified economies in the world, my solitary voice can still deal a blow to the vested economic elites that preside over our current mess.
I hope that everyone who joined the Prop 8 protests in solidarity saw the diversity of our movement, because our movement is the movement which most reflects the diversity of our nation. This is so because LGBT people come from ever sector of society, regardless of race, class, gender, regional location. We become more powerful by becoming a more inclusive movement, a movement which reaches out not just to those that are with us, but to those that may now hold bigoted views, but could be swayed by a family member, friend, co-worker or lover.
Since we are everywhere, we have connections to every person in our society. The only thing that holds us back is our unwillingness to have those groundbreaking conversations with all the people in your life. We all hold back, we all like to keep our politics separate from our personal lives, but that is impossible when our personal lives are up for vote, are debated by the talking heads of traditional media and are ultimately out of our hands.
Our personal decisions about who we love are out of our hands because society still feels that they can tell us what is best for ourselves. We can only reverse that by having conversations that make people begin to see us not as an abstract concept, but as people in their everyday lives. It becomes harder to see yourself as a good father if your gay son has to ask you not to vote against his rights. It becomes harder to coordinate with a co-worker if you believe she is incapable of being a part of society. You cannot call yourself a member of a rational society if you judge someone on their gender identity instead of their skills, deeds and attributes.
Our path to equality merges with the paths of other groups fighting for justice, equality and the ideas that make this country, the United States of America, prosper.
We Marched Yesterday. We Organize Today. We Win Tomorrow.
If you're in D.C., please join the newly created D.C. Committee For Marriage Equality on facebook. An explanation of what this new groups seeks to accomplish: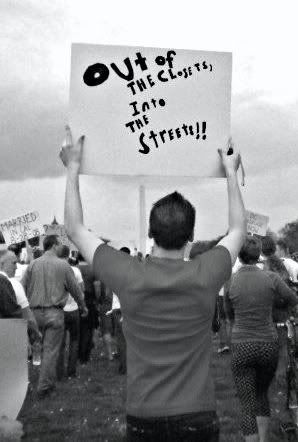 "Our visions begin with our desires."

– Audre Lorde

January 2009 may well be the moment where D.C. becomes ground zero in the fight for marriage equality.

Councilmember David Catania is expected sometime next year to introduce a marriage equality bill for residents of Washington D.C.

The D.C. Committee for Marriage Equality is an online group dedicated to organizing the D.C. community to support passage and implementation of pro-gay marriage initiatives by the D.C. government.

We aim to accomplish this by organizing the outpouring of pro-equality sentiment witnessed in the wake of the passage of Prop 8 in California. We humbly seek out to convert outrage into action, and eventually to victory.

We hope to organize phonebanks to thank D.C. council members and other local leaders for supporting marriage equality and to convince those still undecided or opposed.

We hope to pre-empt any possible ballot initiative meant to take away any future marriage equality victories in D.C.

Our strategy is to build up a network and listserv of leaders, activists and volunteers to be activated when needed.

We will focus on a meaningful and concrete outreach to faith communities, El Salvadorean/Latino communities, African-American communities and other groups which are integral to Washington D.C.

Please invite your friends, allies of the movement and anyone you know who attended or supported a Prop 8 protest.

We must turn outrage into action.
Questions or Concerns? dc4equality@gmail.com