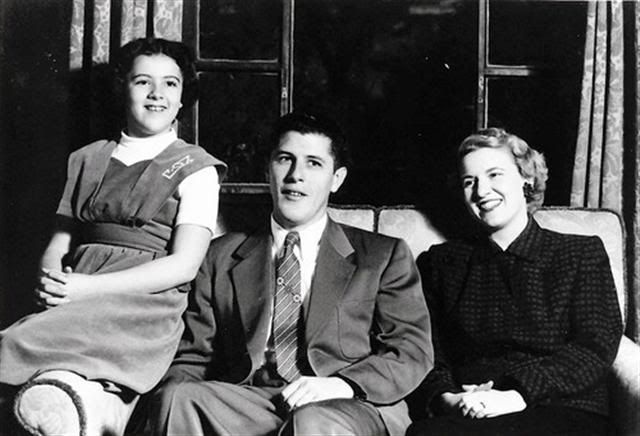 Madelyn Dunham (r).
Our sympathy to Barack Obama and his family. She must have been so proud of him.
We will post more information here as it becomes available.
PAM: Here's a statement from Obama and his sister Maya Soetoro-Ng:
"It is with great sadness that we announce that our grandmother, Madelyn Dunham, has died peacefully after a battle with cancer. She was the cornerstone of our family, and a woman of extraordinary accomplishment, strength, and humility. She was the person who encouraged and allowed us to take chances. She was proud of her grandchildren and great-grandchildren and left this world with the knowledge that her impact on all of us was meaningful and enduring. Our debt to her is beyond measure.

"Our family wants to thank all of those who sent flowers, cards, well-wishes, and prayers during this difficult time. It brought our grandmother and us great comfort. Our grandmother was a private woman, and we will respect her wish for a small private ceremony to be held at a later date. In lieu of flowers, we ask that you make a donation to any worthy organization in search of a cure for cancer."
You may recall what Barack Obama said about the influence of his grandmother at the Dem Convention:
And when I hear a woman talk about the difficulties of starting her own business, I think about my grandmother, who worked her way up from the secretarial pool to middle-management, despite years of being passed over for promotions because she was a woman. She's the one who taught me about hard work. She's the one who put off buying a new car or a new dress for herself so that I could have a better life. She poured everything she had into me. And although she can no longer travel, I know that she's watching tonight, and that tonight is her night as well.

I don't know what kind of lives John McCain thinks that celebrities lead, but this has been mine. These are my heroes. Theirs are the stories that shaped me. And it is on their behalf that I intend to win this election and keep our promise alive as President of the United States.Related:
Related:
* Making the Obvious Visible
Hat tip to Blender Mark.