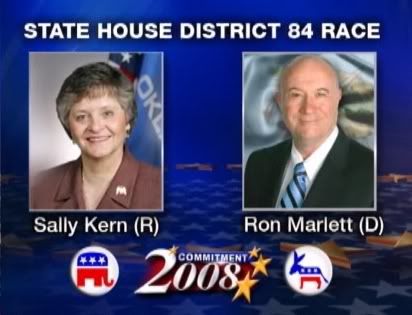 Oklahoma homo-hating, illegal pistol-packing legislator Sally Kern sticks to her story — gays are more dangerous than terrorism. She reiterated this insanity during a debate on Thursday with opponent Ron Marlett and it turned ugly. KOCO-TV has video. Some of Kern's statements during the debate:
"It's a moral decay that's going to destroy our nation from within."

"While terrorism has killed more than 3,000 people, in the continental United States in the last 15 years, homosexual behavior has killed more than 100,000," she said. "It's a danger to life. It is a danger to health."

"Our county is united pretty much against terrorism, but homosexuality is being promoted in schools and by the government."
While Marlett does not support marriage equality (this is Oklahoma, folks), he has strongly spoken out about fomenting bigotry and denial of civil rights.
"To compare certain members of our community to a cancer that might need to be removed is chilling to me…We hold these truths to be self-evident that all men are created equal."
BTW, things got so heated that one member of the gallery was removed by police when the person tried to call out Kern for bringing guns into the state Capitol. The KOCO video is hilarious and sad at the same time. Kern is an educator that doesn't understand the need to separate church and state. Please, Oklahoma voters, dump this woman, she should not hold public office.
You can see video of Marlett campaigning here. In another video, Ron rocks to raise money —
Related:

* The Blend's Sally Kern files