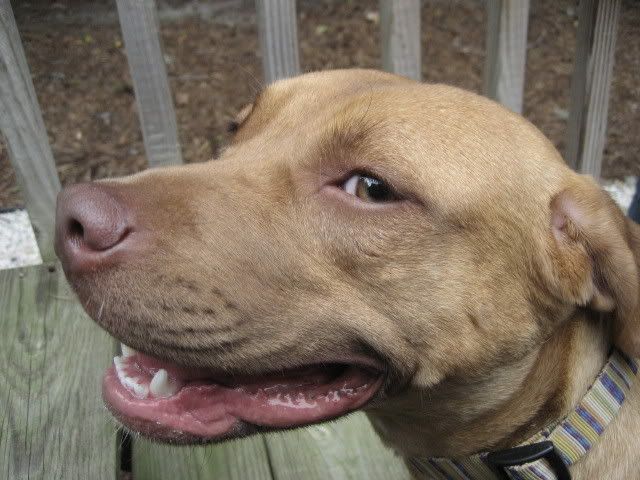 This is Casey. We adopted her today from the SPCA of Wake County. Regulars recall that we had to put down our beloved Lab mix Bailey this week. Kate and I had been going to area shelters for a couple of months now, hoping to find the right dog for our family before Bailey passed on since we didn't want Chloe to be an only dog.
But as we all know, some things just happen, and this was one of those times. Today we brought home our latest family member, Casey, who is a 40 lb. hound/AmStaff mix, and she's about 10 months old. We were originally looking for an adult dog, but this gem is well beyond her chronological age. She knows sit, down, stay, and so far has not made any mistakes in the house. She's playful, but serene and quiet for a young one.
The odd thing about Casey is that her body looks like a miniature Rhodesian Ridgeback or Vizsla, her head is definitely not as broad as an AmStaff. Her personality is definitely more like a Vizsla, very sensitive, responsive to training, and easy to correct.
Chloe and Casey have gotten along fine so far; Chloe had already been moping and refusing to eat since Bailey went to the Rainbow Bridge, and she ate right away when I put down the food for her and Casey. We were lucky to have found this one so soon.
I shot some video of her checking out the back yard for the first time. It's below the fold.First day video: