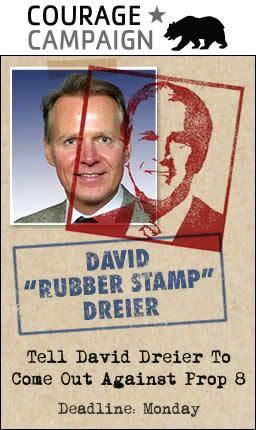 That's the $64,000 question being asked by The Courage Campaign. Will the professionally closeted Congressman from California, who is head of the state GOP delegation, have the stones to urge voters to defeat Proposition 8, which would roll back the existing legal right of gay and lesbian couples to marry?
Here's The Courage Campaign's petition directed at Dreier and the citizens of the 26th Congressional District:
This November, Californians will vote on Proposition 8, a ballot measure that would, as the ballot description reads, "eliminate the right of same-sex couples to marry."

On Tuesday, we sent a message asking you to pledge to defeat this measure and vow to Vote No on 8. Your response was overwhelming. Now it's time to put our elected leaders to that test as well.

Join us in demanding that Congressman David Dreier come out against Prop 8 as well with the rest of us fairminded Californians. Dreier voted against the Federal Marriage Amendment because he didn't feel it was appropriate for the Constitution to be used to restrict rights. Well, that's exactly what the right-wing extremists behind Prop 8 want to do with California's Constitution. That's why some Republicans, like Governor Arnold Schwarzenegger have stated their opposition to Prop 8.

Will David Dreier vote the right way when the same question is on the California ballot?
He has been conspicuously silent.
Dreier, you'll recall, has been outed several times. Blogactive issued its Roy Cohn Award to him "for 24 years of working against the gay and lesbian community while living as a gay man himself," and Michael Collins's "Congressman David Dreier: Gay & Ashamed," who noted that "Dreier's roommate and constant companion is none other than Brad W. Smith, his appropriately entitled chief of staff."
The MSM chose not to report on this poorly kept secret for years. It was hard to escape covering the matter in some manner back in 2005 when Dreier was mysteriously passed over for House Majority Leader (the terminally corrupt Tom DeLay was being replaced). This is how the AP reported it:
"A cadre of activist bloggers and alternative-media journalists have been contending for more than a year that another Republican congressman is gay and yet has often voted against gay-rights legislation," wrote AP reporter David Crary. "Thus far, the mainstream media – both national outlets and those in the congressman's home region – have declined to report on the campaign, although the effort is common knowledge among political reporters and on Capitol Hill."
This petition, in light of the above, underscores the importance of Dreier taking a public stand. You cannot re-closet this issue, no matter what your personal demons are regarding the reconciliation of your sexual orientation and public political persona, Dreier. this is about the rights of same-sex couples in your state who don't worry about being in the closet.
The petition's call continues below the fold; videos on Prop 8 and Dreier's record are also after the jump.
Sign below to demand that David Dreier sign the following pledge to vow to Vote No on 8. Then we'll deliver your signatures to him at his office. DEADLINE: Monday.

Dear Rep. David Dreier,

We, the undersigned, urge you to come out against Proposition 8, which would "eliminate the right of same-sex couples to marry" the person they love in California.

You have voted the right way in the past, so we think it's time for you come out against Prop 8 today. Please join us in taking the following pledge:

I pledge to vote No on Prop 8, a statewide ballot initiative that, if passed, "eliminates the right of same sex couples to marry."

Gay and lesbian couples deserve the same fundamental freedoms that all Californians enjoy. I pledge to vote No on any constitutional change that stands in the way of equality for all.


Following the lead of Governor Schwarzenegger and other Republicans, we urge you to vote No on Prop 8. Thank you for your consideration of this fundamentally important issue to Californians.
Here's the Campaign's No on Prop 8 ad, "'Gender Auditors":
and its ad about Dreier, "Bush's Rubber Stamp" (he's voted with Bush >93% of the time).
***
Also:

* Countering the pro-Prop 8 ads — the clock is running out
* Andy @ Towleroad has coverage of a huge, star-studded anti-Prop 8 benefit and the dishonor roll of those bankrolling support of Prop 8.