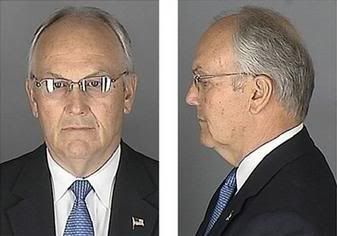 I thought that he might be feted with toe tapping, but Senate colleague Mike Crapo paid tribute to Larry Craig (who is retiring in January) with a speech. You have to read it to believe it. No shame, no blame in the annals of Republican Sexual Hypocrisy:
"As the 110th Congress comes to a close this fall, a chapter in Idaho politics also comes to a close. After serving in public office, first in the Idaho state Legislature from 1975 to 1981, then in the U.S. House of Representatives from 1981 to 1990, and finally here in the Senate from 1991 to 2009, my colleague, Senator Larry Craig, is retiring from elective office.

"Over the years, he has doggedly pursued initiatives important to Idahoans and staunchly defended Western values.

…"Senator Craig's public service demonstrates a rich history of strong, conservative leadership characterized by an unapologetic defense of the democratic ideals of private property and personal liberty and woven together with an abiding and proactive concern for those without a voice here in Washington. Idahoans across the state have come to know that they can depend on Senator Craig to defend their economic well-being and their values.

"It has been a privilege for me to serve with Senator Craig during my time in Congress. My wife, Susan, and I wish him and his wife, Suzanne, well as they begin a new chapter in their lives."
Personal liberty — only if you remain a tortured closeted bi/gay man.
Related:

* "What Larry Craig Should Have Said." (remix from the Mike Signorile Show)