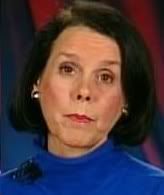 The handwriting is on the wall for Elaine Donnelly and the The Center for Military Readiness. She is well aware that Don't Ask, Don't Tell is likely to go by the wayside, particularly if Obama is elected, and because the polling shows that most Americans in and out of the military, see no good reason why gays and lesbians cannot openly serve.
So what to do? Well, the doyenne of discrimination has decided to do a little Black Ops meeting with veterans service organizations (VSOs) to figure out how to turn up the Homosexual Terror Alert. Fortunately Parents, Families and Friends of Lesbians and Gays (PFLAG) received the secret memorandum on this briefing, and you've got to read the cloak and dagger BS. The Blend has obtained a scan of the memo and transcribed it for your reading pleasure.
Because I admire your organization's work in support of our nation's armed forces, I am writing to ask you a question. The determined campaign to repeal the 1993 law stating that homosexuals are not eligible to serve in the military is gaining ground. In this critical battle over the culture of our military — the only one we have — do you care who wins?

Homosexual activists are pushing hard to impose their agenda on our military, regardless of the impact on morale and discipline. They are pleased that pro-defense and veterans organizations, which helped to pass the law in 1993, appear to be missing from the field this time. Organizations such as the Servicemembers Legal Defense Network and the ACLU are well-funded and politically powerful, even though they have no arguments that withstand scrutiny.

Given your organization's long-standing commitment to military readiness and the high standards and sound policy that promotes it, I hope I can count on you in joining CMR to defend the law regarding homosexual conduct in the military. We need to talk about what can be done, and why, face to face.

I am writing to invite you and other concerned organizations' leaders to a private, off-the-record briefing to discuss this critically important national security issue. Please join us at the CMR office in Washington DC:

Date: Thursday, October 2, 2008

Where: CMR Conference Room, 1615 L Street, NW, Suite 650

Time: 12:00-2:30 PM (Light lunch will be served)

RSVP: Executive Director Tommy Sears, 202/347/5333, tommy@cmrlink.org

Due to this issue's urgency, this invitation is not transferrable to casual observers, interns or other non-executive support staff. This PowerPoint briefing, which includes short video excerpts of the July 23 House Armed Services Committee hearing on gays in the military, will cover everything you need to know to provide the type of principled, engaged leadership that only you can give. I would welcome new ideas and commitment that could turn the situation around.

We are not without advantages. On our side we have the 1993 law, several court decisions declaring the law constitutional (the most recent in June, 2008), credible facts, common sense, and, I believe, majority support among men and women in uniform.
There are so many outlandish things about this memo and Donnelly's bluster, considering the sitcom-worthy performance she gave earlier this year at the House hearings on Don't Ask, Don't Tell. More below the fold.Elaine, who has no military background and zero qualifications of any kind to speak with authority on the subject, went on live TV and gave bigoted, fact-challenged testimony that was ridiculed not only by the people in the hearing room, but on The Daily Show, and in the mainstream media. Dana Milbank of the WaPo:
Donnelly treated the panel to an extraordinary exhibition of rage. She warned of "transgenders in the military." She warned that lesbians would take pictures of people in the shower. She spoke ominously of gays spreading "HIV positivity" through the ranks.

"We're talking about real consequences for real people," Donnelly proclaimed. Her written statement added warnings about "inappropriate passive/aggressive actions common in the homosexual community," the prospects of "forcible sodomy" and "exotic forms of sexual expression," and the case of "a group of black lesbians who decided to gang-assault" a fellow soldier.

At the witness table with Donnelly, retired Navy Capt. Joan Darrah, a lesbian, rolled her eyes in disbelief. Retired Marine Staff Sgt. Eric Alva, a gay man who was wounded in Iraq, looked as if he would explode.
As Steve Ralls of PFLAG notes, she's desperate to restore what imaginary credibility she believes she had prior to her homo-obsessed C-SPAN meltdown.
It has long been a high-priority of Donnelly and other extremists to organize veterans services organizations to counter momentum in Congress, which has shifted to pro-repeal advocates over the past few years. As more and more veterans – such as retired Joint Chiefs Chairman John Shalikashvili and Lieutenant General Claudia Kennedy – have joined efforts to topple the law, Donnelly has become increasingly desperate to find allies who will join her in advocating for the continued exclusion of lesbian and gay Americans from the armed forces.

Those efforts have failed miserably. In addition to the support of more than five dozen high-ranking military veterans, the effort to repeal the law is also supported by 148 lawmakers in the House of Representatives.

…And if July's hearings in Congress are any indication, Thursday afternoon should be the last, sad show that brings down the curtain on Donnelly's already-lost crusade.
Unfortunately for her movement, she's not finding friends in the military willing to give her the time of day – or even answer her phone calls at this point. It's all downhill for Elaine and the CMR. She even launched an online campaign to try to drum up support (does this woman have a real J-O-B?), with this ridiculous video:


"Our nation's military should not be used as a tool to advance the goals of gay activist groups. Forcing a sexual agenda on the armed forces would hurt discipline and morale."
When you think about issues that really affect boots on the ground — adequate body armor, guaranteed health care when they return home, adequate counseling — a laundry list of more important things, Elaine Donnelly's obsession with persecuting and root out gays in the military looks petty, cruel and quite frankly, unbalanced. So many service members have come forward to say that they have served openly with their COs aware, and colleagues not giving a rip about sexual orientation.
What on earth is this woman going to do when DADT is repealed?
Related:

* Elaine 'forcible sodomy' Donnelly scorched by WaPo for ludicrous DADT testimony

* Don't Ask, Don't Tell supporter Donnelly provides comic relief during House hearing

* Elaine Donnelly honored on The Daily Show