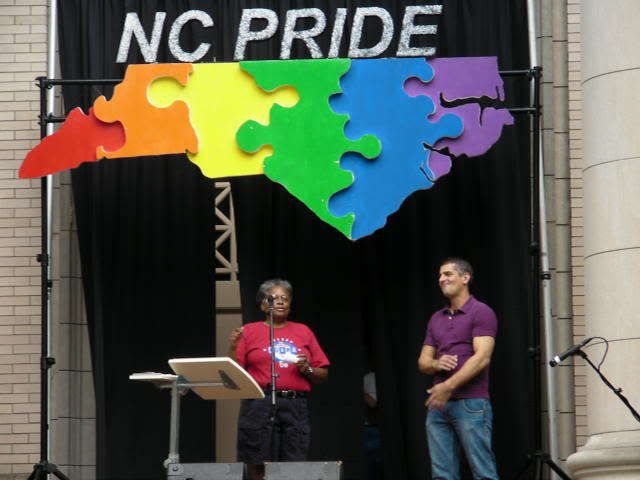 UPDATE: Mandy Carter spoke about the importance of the LGBT vote (I just added that video below the fold). Also, I forgot to mention that we also had one pathetic McCain supporter on the sidelines screaming "McCain, McCain, McCain." She couldn't even manage to round up a few friends to make a decent show of things.
UPDATE 2: I've added more video below the fold: 1) Elke Kennedy, the mother of Sean Kennedy, who was murdered because he was gay. His killer received a sentence of manslaughter and was eligible to be out in 10 months. 2) Chapel Hill City Councilman Mark Kleinschmidt, and 3) Obama Pride marchers in the parade.
---
Kate and I went to the NC Pride parade today, and it was definitely the largest turnout we've seen. There was a lot of Obama support out there (right: this was my favorite T-shirt of the day). We marched in the Obama Pride section this time around. It was a wild assortment of progressive allies, members of the LGBT community, and very strong corporate support (Suntrust, US Air, Bank of America, Best Buy, Glaxo, to name a few).
We had a flock of unhinged fundies this year. Operation Save America and Flip Benham didn't show, but it looks like one of the local black churches sent out some members with handmade signs with tired "wages of sin" kind of phrases on them. They just stood silently. By contrast, the most vocal and unhinged fundies were white, that was kind of odd; I'm not sure what's going on there. I should note that there were more gay-affirming churches of all denominations marching in the parade than ever before.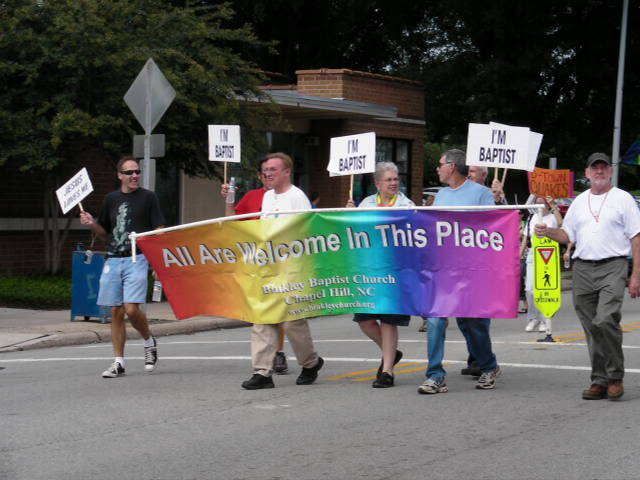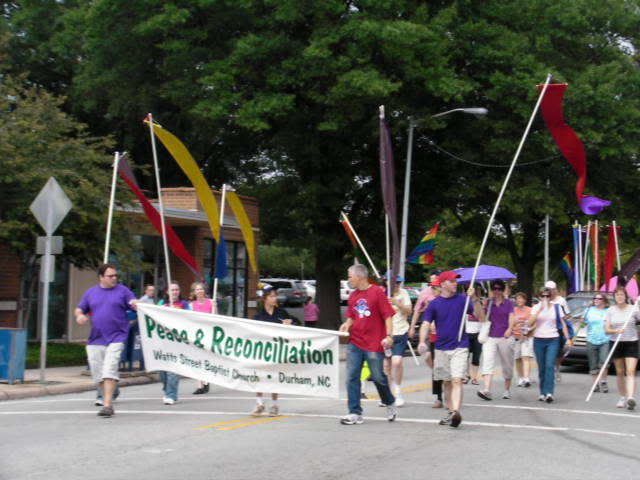 I wonder what the hateful crowd thought about that.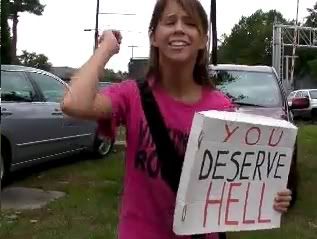 I was accosted by one young woman who wanted to save me from eternal damnation as I marched, so naturally I had to go over and film her. It was hilarious – her schtick was that Obama wasn't going to save us from the hellfire. I asked her why she wasn't out there protesting divorce. This got her briefly off message, then the cops told me to move along. Here's the video of her and the rest of the fundies:
A slideshow of other photos from Pride and more fundie footage are below the fold.More fundies: