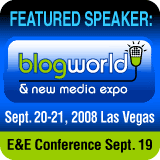 The coffeehouse will be in the hands of the permanent baristas as Kate and I head off to Las Vegas this AM for the BlogWorld & New Media Expo 2008. The full conference schedule is here. The panel I'm on (the roster has grown since my last post about the conference:
"The Political Blogosphere In Transition"

(Moderator: Austin Bay. Panelists: Rob Neppell, Bridget Magnus, Roger Simon.)

Saturday, Sept. 20 – 12:15 p.m.-1:15 p.m.

The political blogosphere was born after the divisive 2000 presidential election and has matured rapidly in the eight years since. The selection of a new president in 2008 will be a key transition for political bloggers who have been inspired or infuriated by the policies of George W. Bush. How will the "netroots" and the "rightroots" react?
Here are photos from last year's Blogworld. In looking back at last year, the hot topic at hand was the turmoil ("Vegas and the 30,000-foot view of ENDA". It's pretty unpleasant to go back to that moment in time.

Anyway, I want to get Kate a hot stone massage for her eternal patience with my long hours of blogging for you all while we're there (I promise, honey – I'll not drop dead before election day). Folks have any recommendations? We don't gamble, so the casinos won't be able count on us for a payday.
I'll be online from time to time, using Twitter and Utterz for on the spot updates if I come across something bizarre or interesting — it's almost a guarantee in Vegas.