SC: Homophobic gov Sanford to be honored with 'So Gay' award at Pride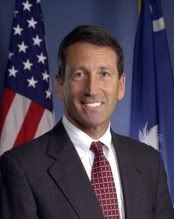 The LGBT community in The Palmetto State is taking lemons and making lemonade out of the outrageous behavior of the administration of Governor Mark Sanford (R) earlier this year. It pulled a pro-gay tourism ad that was slated to run during London's Pride.
The thought that his state might be perceived as welcoming to gays was so horrific that Sanford himself intervened to have the ad killed. (SC Pride release):
This year's events took an interesting turn due to the recent controversy involving a state sponsored marketing campaign. In July, Governor Mark Sanford ordered the SC Parks, Recreation, and Tourism Department to stop an ad agreement with Amro Worldwide, a travel promoter, after it began to market the state to potential gay tourists. Parks, Recreation, and Tourism claimed that the ad campaign was never properly approved and was conducted by a "lower level employee."

State Senator David Thomas, (R-Greenville) even called for an investigation. Both Sanford and Thomas denied it was homophobia that led to the pulling of the ads. Both said it wasn't right to use state dollars to market to groups with a "specific social agenda."

The controversy led to international, mostly negative, attention to the state, including ridicule on a segment of "The Colbert Report". While Sanford and Thomas backtracked from their original comments, the state refused to pay the nearly $5,000 share of the ad campaign. SC Pride stepped in and offered to raise this money to pay South Carolina's debt and has raised over $1,000 to date.
As you see, the bunched-panties reaction by Sanford and company provided great publicity for SC Pride, so it plans to honor the governor with this award: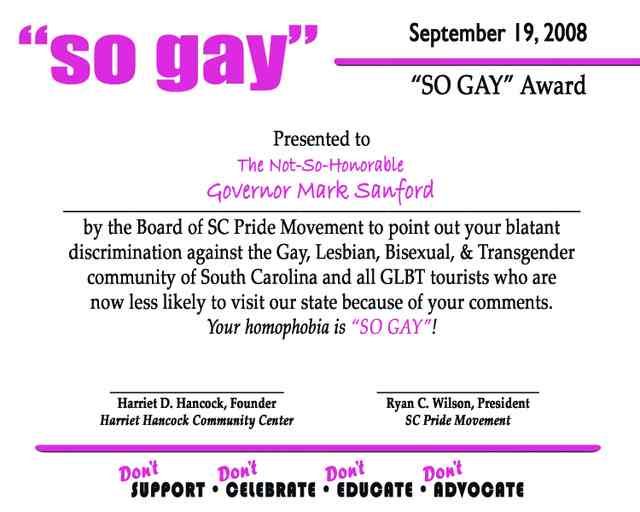 Ryan Wilson, president of the SC Pride Movement, says a framed version will be delivered to Sanford's office. Perhaps it should be sent along with a fruit basket for good measure.
Related:

* SC: overseas campaign to attract gay tourism yanked

* S.C. Gov. issued directive for "SC so gay" ad cancellation, Brit ad exec speaks to U.S. media

* South Carolina "so gay" ad controversy – See this is what we mean when we say homophobia