What a gem this is…go to McCainsLobbyists.Com to see how the GOP candidate has no credibility when he declares he's going to clean up Washington of those special interests. I guess he just means the ones not on his payroll.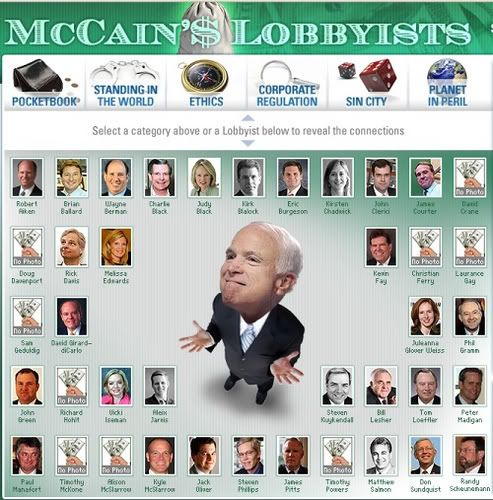 Also worth noting…
Rick Davis, campaign manager, has lobbied for Airborne Express and DHL on their controversial merger deal, as well as telecom companies Bell South/SBC and Verizon.

Charlie Black, senior advisor, lobbied for more than 100 clients, including Yukos Oil and Freddie Mac.
Randy Scheunemann's lobbying clients have included BP Amoco and the NRA.
Nancy

Pfotenhauer

, senior policy advisor, is a former Koch Industries lobbyist.

Frank Donatelli, the McCain campaign's director at the RNC, has had 70 clients including PHARMA, Pfizer and Exxon Mobil.
John Green, congressional liaison, has lobbied for at least 150 clients, including insurance industry trade groups, predatory lender Ameriquest, Chevron Texaco, Fannie Mae, and Freddie Mac.
Wayne Berman, campaign vice-chair, finance co-chair, and advisor has also lobbied for almost 100 clients, including Ameriquest, Fannie Mae, the National Rifle Association and American Health Insurance Plans.
SOURCE: Lobbying Disclosures, US Senate Office Of Public Records
Hat tip, Paul at Open Left.