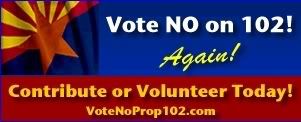 Friend of the Blend and Box Turtle Bulletin editor Jim Burroway, along with fellow activists working to defeat the marriage amendment in Arizona have launched the blog VoteNoProp102.com.
Here's the feed: http://votenoprop102.com/news/feed/
At BTB, Jim notes that money is coming in to get out the vote and pass this amendment, so it's time to pony up for the only state that has successfully (in 2006) turned away a same-sex marriage ban ballot initiative.
The Yes for Marriage campaign pulled in more than $2.3 million from 160 donors across the state since the secretary of state's reporting period that ended Aug. 13. That brought the campaign's total to about $3 million.