At the convention, I was interviewed at the convention by BlogHer's Erin, and they've posted the interview. BlogHer recently did a round-up of trans bloggers where I wasn't mentioned — primarily they just mentioned blogs that were trans owned and operated — so it was pretty kewl that they found a trans blogger at the Democratic National Convention to talk to specifically.
It was a pretty fun interview to do there at the blogger Big Tent. Erin was busy and a tad frazzled, but frazzled in that wonderful I'm having so much fun while I'm getting worn out with work kind of way. I had lots of fun with the interview too, and to be really honest —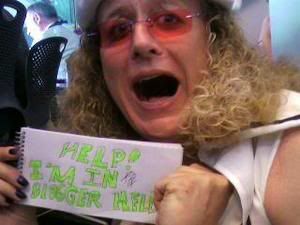 it felt incredibly wonderful to be interviewed, and now highlighted, by a pretty women's blog that highlights women bloggers. I was of them, and they were of me — that felt incredible.
Anywho, this interview was conducted last Thursday, and it specifically is what delayed me from joining Pam to travel to blogger hell. We travelled separately — and our experiences trying to get into the stadium, and then connect there, was part of the hellish story that will be part of my wonderful memories of that day.