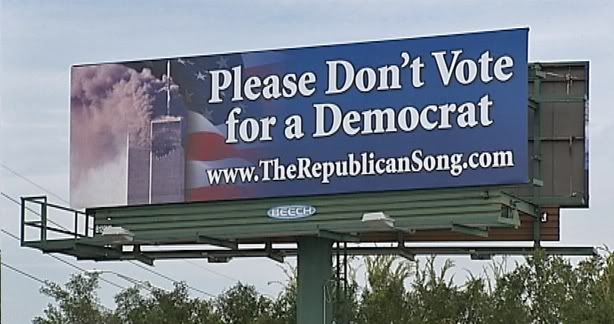 From St. Cloud, Florida — isn't this the kind of shameless, tasteless shilling you expect from Republicans as their fortunes are in the dumpster? After milking the tragedy of 9/11 for years now, here it comes again when the party has zero to run on. (Raw Story):
Businessman Mike Meehan, who paid for the ad, says he's "only trying to help Republicans." The billboard also carries a link for Meehan's website, TheRepublicanSong.com, at which he says, "I claim to be a man of God" and promotes his political song and video.

Meehan's song, which appears to have racist overtones, begins, "The Democrat secular progressive move, political correctness is killing us too. They want to take the money from the hard working man, and give it to the lazy folks that don't give a damn."

Even Republicans have found the billboard "inappropriate," and many residents want it to come down. "I'm thinking about the Twin Towers, all the families that were killed there," one woman told local TV affliate WFTV.
Dems weren't exactly at the helm when this occurred, and, as I recall, isn't Osama still enjoying his freedom?! Raw Story notes that over at Lucianne.com, one of the knuckledraggers there declared: "People who refer to the terrorist attack as a tragedy are morons."
UPDATE: Below the fold is CNN video of this story.