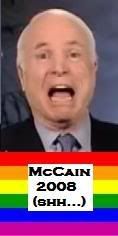 Adulterer, misogynist, and unashamed, unembarrassed and proud friend of the Log Cabin Republicans, John McCain, says he supports family values, even the ones he doesn't subscribe to personally. Check out this NYT piece.
Mr. McCain, who with his wife, Cindy, has an adopted daughter, said flatly that he opposed allowing gay couples to adopt. "I think that we've proven that both parents are important in the success of a family so, no, I don't believe in gay adoption," he said.
UPDATE: The Family Equality Council's Kara Suffredini, Director of

Public Policy had this to say about McCain's statement:
These are the facts about American families. According to the 2000 census, the vast majority – more than 75%‹of American households differ in structure from two married, heterosexual parents and their biological children. We are a nation of blended and multi-generational families, adoptive and foster families, and families headed by single parents, divorced parents, unmarried parents, same-sex couples and more. As an adoptive parent himself, McCain should be well aware of this. As a presidential candidate, he should seek to honor and support the many kinds of families that exist, rather than dismiss the vast majority of households in this country as second-tier.

This is what is true about lesbians and gays raising children: 30 years of scientifically valid research universally demonstrates that LGBT families are just as nurturing for children's growth and development as heterosexual families.

Our society's primary child welfare organizations, such as the American Academy of Pediatrics, the American Psychiatric Association and the National Association of Social Workers, have all issued statements supporting same-sex parents. The American Psychological Association has stated: "Gay and lesbian parents are as likely as heterosexual parents to provide healthy and supportive environments for their children."

All of which makes one wonder: What is the basis for Senator McCain¹s position?

American families may be diverse, but have at least one thing in common‹we want our children to be safe, healthy, happy and supported. When our families are politicized, our ability to protect ourselves, each other and our children comes under attack. After eight years of similarly baseless attacks on our families, we hope that the next President of the United States will honor and support the vast array of families that daily work to raise happy, healthy and productive children. The Family Equality Council has a proud history of educating political leaders about our families and we welcome Senator McCain and others whose perspectives affect the most personal aspects of our lives to contact us and get to know the loving families he paints as "unsuccessful".
UPDATE 2: PFLAG weighs in —
"In a country where more than 125,000 children are waiting for foster parents, Senator McCain would deny loving homes to children who desperately need them simply because of an outdated prejudice about what a family may look like," said Jody M. Huckaby, executive director of Parents, Families and Friends of Lesbians and Gays (PFLAG). "We are disappointed and saddened that a public leader who is himself an adoptive father would deny the children in America's foster care system the opportunity to thrive as part of a welcoming family. Love makes a family, but short-sighted positions like Senator McCain's can certainly tear families apart, too."

…"Senator McCain's position is out of synch with the research and science and out of step with what is in the best interests of children waiting for a home and a family," Huckaby said. "PFLAG knows the pain inflicted upon families due to misinformation about LGBT issues. We implore Senator McCain to take a serious look at the overwhelming evidence and listen to the stories of the countless children raised by loving lesbian and gay couples. The evidence is clear: children should not be denied access to the loving homes of gay couples."
Oh, while we're at it, apparently his campaign is smarting from their candidate's bold statements that he is an ignoramus when it comes to using a computer or the Internet. Read below the fold. Unfortunately he only reinforces his willful ignorance and inabliity to grasp that basic skills of this nature are necessary for him to understand and lead this 21st century economy.
He said, ruefully, that he had not mastered how to use the Internet and relied on his wife and aides like Mark Salter, a senior adviser, and Brooke Buchanan, his press secretary, to get him online to read newspapers (though he prefers reading those the old-fashioned way) and political Web sites and blogs.

…"They go on for me," he said. "I am learning to get online myself, and I will have that down fairly soon, getting on myself. I don't expect to be a great communicator, I don't expect to set up my own blog, but I am becoming computer literate to the point where I can get the information that I need."

Asked which blogs he read, he said: "Brooke and Mark show me Drudge, obviously. Everybody watches, for better or for worse, Drudge. Sometimes I look at Politico. Sometimes RealPolitics." …Mr. McCain said he did not use a BlackBerry, though he regularly reads messages on those of his aides. "I don't e-mail, I've never felt the particular need to e-mail," Mr. McCain said.
Related:

* Blend McCain posts

* G*d damn. Can we afford a computer illiterate doofus as POTUS?