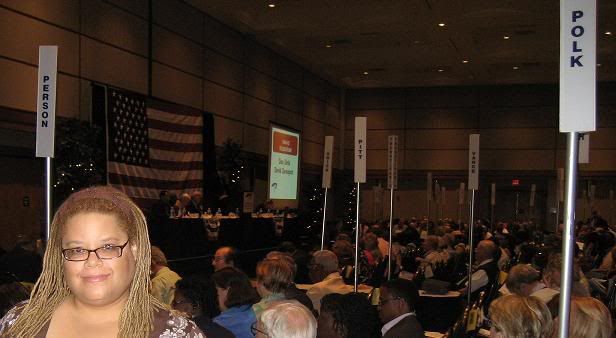 At the New Bern Convention Center, as the festivities and business begin.
I'm in New Bern, NC for the North Carolina Democratic Party State Convention. Of course I know that most regular Blenders won't find this post exciting, since I usually blog about national politics, LGBT issues, race, the religious loonies, etc. I wanted to attend the NC state party convention because 1) it is a landmark presidential election; 2) it's a way to see democracy in action, as well as my state's inner party workings; and 3) it's a micro-version of what I and the rest of the baristas will experience covering the national convention in Denver.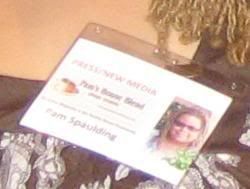 To start off, one bit of interesting business was that when I arrived, there wasn't a clear way to obtain press credentials. Actually, there wasn't any formal system at all to identify media that I could see. Thank goodness for blogmistress planning, as I had made up a "press badge" (L) before leaving home just in case.
When I entered the convention hall itself, there wasn't any set up area for the press to work (no tables or chairs in a convenient location to cover the activities). I fortunately ran into Jerimee Richer (R), who is director of online communications for the North Carolina Democratic Party. He quickly found the facilities coordinator for the center while I went out into the public area to check out the candidate and merchandise tables in the hall. When I came back about 10 minutes later, there was a table set up on the left side of the hall, convenient to power and a great view. You can't ask for better blogger accommodation than that. Thanks!
Ninety-four counties out of 100 are represented at the convention today.
Liveblogging is below the fold.Some related links:

* State convention info
* Potential Delegate list
* Delegate Certification List
* 2008 proposed platform (support for sexual orientation is included, but not gender identity or expression)
* 2008 proposed resolutions
I'm not going to do a blow by blow description of things. I will just point out more interesting aspects of the goings-on.
12:20: 135 delegates will go to Denver. There are 500 people who filed to run for a pledged delegate seat with only 50 slots available. Amazing. At this point, a lot of the delegates are being officially selected on the floor, from the public slate sheet, a very matter-of-fact process that is going by quickly.
12:30: Now each county, divided up into sections on the floor, is caucusing, with 10 minutes to turn in votes on the selection of one at-large slots (#31), Gary Palmer and Bradley Hardy. This went to a written ballot vote. Palmer is a major party fundraiser.
12:40: LiberalNC (of BlueNC.com) just stopped by my table to say hi — he's here as a member of his county party.
12:50: The Nash county delegation called for a written ballot on the #45 at-large delegate vote because the voice vote was so close — Kever Clark vs. Algene Johnson.
***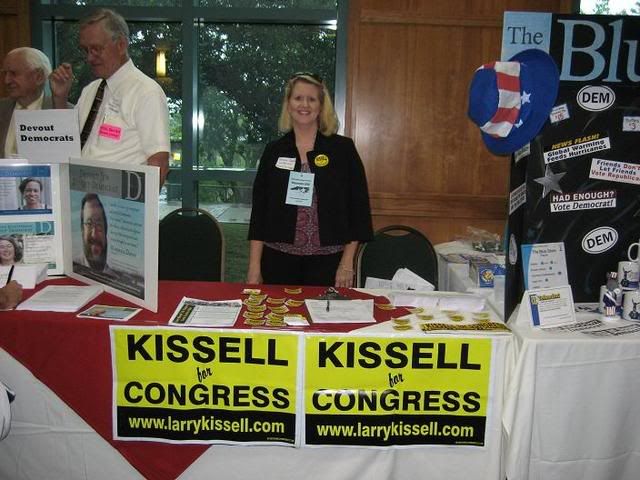 While I was out mingling at the tables out in the hall, I had one of those out-of-context moments when my blogger life collides with my "real-life" world. I saw a woman I recognized but couldn't place her at first. It turned out to be Marjorie Fowler, Electronic Projects Coordinator at UNC Press.
On the day job I work at Duke University Press, an academic publisher (our blog is here), so we are in professional contact from time to time. Marjorie is at the convention with her husband Karl G. Kachergis, chair of the Chatham County Democratic Party. In the photo are Karl, Marjorie and Dan Fraser, events coordinator for the Chatham County Democratic Party.
One of the other busy tables out there was the one for U.S. Congressional candidate for the 8th District, Larry Kissell, who is going to unseat incumbent Republican Congressman Robin Hayes. The Eastern Field Coordinator (and BlueNCer) Rhonda Quador (right photo), recognized me and came over to wish us well in covering the national convention.
I ran into Ed, Jeanne, and Ryan Ridpath in the hall; Ed Ridpath is challenging ultra-homophobe Skip Stam for the NC House District 37 seat. Ed's district is one of the fastest growth areas (Apex, Cary, Fuquay Varina, Holly Springs, New Hill, Willow Spring). He's a strong supporter of LGBT civil equality.
***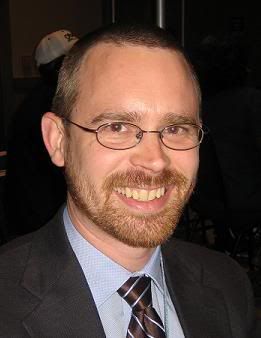 Just a moment ago, pledged Obama delegate Ian Palmquist (left, who by day is Executive Director at EqualityNC), stopped by what I'll call "Blogger Central" (i.e., me at the table with Jerimee), to say hello. Ian was elected at the county level, so he's all ready to go to Denver. George Greene, Jr. (right), Blend reader and long-time Democratic activist (he says that because he appeared in his first ad at 8 years old; his father was a NC Superior Court Judge) also said hello.
***
1:15: Beth Wood, who is running for state auditor, spoke briefly about her race; she noted that her opponent, Les Merritt, will appear on the ballot as "Leslie Merritt," ostensibly to give low-information voters the impression that he might be a woman. I almost burst out laughing at this; can you imagine a male pol trying to work gender bias in that way…anything goes these days.
1:25: There are several nominees for presidential electors; NCDP chair Jerry Meek, for diversity's sake, proposed there be male and female slots for this. There wasn't an objection, and there are quite a few people coming to the mic to nominate someone.
1:40: There's a lull in the action as the ballots are counted related to the alternate delegate selection between Kever Clark and Algene Johnson; Kever Clark has won the slot.
1:48: Gubernatorial candidate Bev Perdue takes to the podium. She mentioned yesterday's visit to NC by Dear Leader; as governor, she said she'll fight to oppose efforts to drill for oil off our coast. She's giving a pretty standard campaign stump speech, but it's positive and upbeat.
2:10: They are now going over the 2008 NCDP party platform document. Some are notable, such as this one
:PRODUCT SAFETY. We stand for more stringent regulation to ensure the safety of food, pharmaceuticals and other products coming into and leaving the United States. We also believe the place of origin and the inclusion of genetically modified products must be clearly labeled.
Another provoked a member of the delegation, an amendment on animal welfare that she says doesn't go far enough. As proposed it says:
ANIMAL WELFARE. We recognize that humans share the Earth with other living beings who share with us the experience of pain and pleasure. We appreciate the joy, companionship and other benefits that our companion animals provide and believe it is our moral responsibility to treat these animals humanely and prevent their suffering. To that end, we are committed to the accomplishment of the following goals through appropriate legislation and regulatory action: providing for the basic welfare of all animals, ending cat and dog overpopulation and improving animal control and sheltering.
She wants language inserted that spay/neuter programs be mandated in the state. Jerry Meek noted that any proposed amendments need to be submitted in writing. The amendment failed by voice vote.
Another stands with objections to the platform's position on women and reproductive freedom. The delegate wants to substitute the language below with a more "abortion-neutral" description.
WOMEN: We believe that every woman should have access to prenatal and postnatal care and appropriate counseling, as well as access to information and counseling regarding all choices related to pregnancies. We believe that a woman's decisions regarding pregnancy should be her own choice and not that of the government. We believe that we should focus on preventing unintended pregnancies and reducing the need for abortion through increasing access to family planning services, access to affordable birth control – including emergency contraception – and by providing comprehensive age appropriate sex education. Furthermore, abortion must be safe, legal, accessible to all North Carolina women regardless of ability to pay; therefore, the State abortion fund should be fully funded and accessible to indigent women.
Other supporters of expanded sex education and reproductive freedom rose in opposition to any changes to the above language, saying that the proposed paragraph was not in fact abortion-neutral, but slanted to an anti-choice position. The voice vote on a change in the body was a very strong "No." NC, though a generally conservative state, has traditionally been more progressive on these issues.
2:20: The 2008 platform is adopted.
2:23: Elaine Marshall, Secretary of State, is up to give a speech.
2:40: The Report of the Resolutions and Platform Committee is being discussed now. Guffaws of laughter from the body resulted when a motion to change this section of the document occurred:
THEREFORE BE IT RESOLVED, that this convention proposes that the following amendment be added to the Constitution of the United States: 1. The word "Person, wherever it appears in the Fourteenth Amendment to the Constitution of the United States, means natural born persons only, and does not apply to any other form of legal entity. 2. Any legal decisions or legislative action made or adopted following the ratification of the Fourteenth Amendment to the Constitution of the United States which purport to extend the meaning of the word "person" in said Amendment so as to include any entities other than natural born persons is hereby declared void and of no effect.
The person wanted to change "natural born persons" to "human beings" to supposedly to avoid confusion regarding people who are born via artificial insemination, surrogacy, etc. I sh*t you not.
Needless to say, the proposal went down in flames. Ah, democracy in action.
2:55 PM: State Senator Walter Dalton, candidate for Lieutenant Governor, is up, and giving a rousing, energetic speech that was well received.
2:57: The proposed resolution adoptions and debate are being considered (this is the arcane and time-consuming portion of the convention; these are non-binding resolutions):
Resolution 74 (p. 23). (A Resolution to Reform Democratic Presidential Nomination System). After discussion it is adopted.
Resolution 75: (Resolution about Super Delegates: Super Delegates Vote as Majority State Vote).
WHEREAS, the Democratic Party arrives at a situation where the NC Super delegates are called upon to decide the nominee for President,

WHEREAS, a presidential primary was held in NC on May 6th and a winner was determined

THEREFORE BE IT RESOLVED, that all super delegates should support the popularly elected nominee by unanimously casting their votes for the winner of the NC primary.
This one is interesting, because it targets the issue raised often in this election cycle regarding the proportional assignment of delegates in a primary versus the status of superdelegates, who can vote as they wish — by their conscience. The question is whether they should vote based on who won the primary in their state. As I said, this is non-binding since those are the rules in place at the national (DNC) level.
Resolution 50 (p. 16): (A Resolution to Create Statewide Pre-Release and Post-Release Programs to be Represented in Each County to Assist Prisoners Completing Their Terms in the Transition to Stable Jobs and Healthy Relationships their Communities). This made it onto the debate agenda.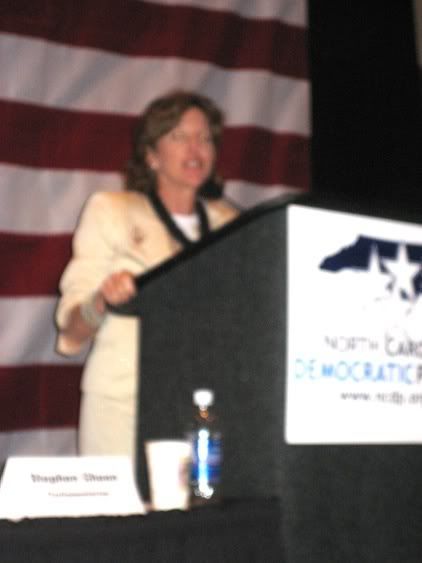 3:20: State Senator and U.S. Senate candidate Kay Hagan is speaking now (she received quite an impressive standing ovation). She emphasized how we need to work toward energy independence, and emphasized that we need to "end this war in Iraq." (another ovation), so that money spent building schools and building there can be spent here at home. Standard stump speech In comparing herself to Elizabeth Dole "First of all, I live here in NC." Unfortunately she told her old, hoary Ruby Red Slippers remark yet again (give Dole a pair of ruby red shoes so she can click her heels and send her back to Kansas). It did, however, rouse the crowd, even if they've heard it 100 times.
3:30: Back to more resolutions. It's hard to keep up with a great deal of the details. Every so often there is a break to have a speaker come up for a quick bit of relief, as it were. Up now to speak are Judge Linda Stephens, Judge Jim Webb, and Judge John S. Arrowood, who is the first openly gay judge on the NC Court of Appeals.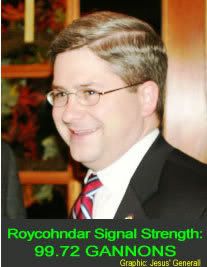 3:55: Mary Fant Donnan, candidate for Commissioner of Labor is up. She intends to defeat Cherie Berry, the incumbent this fall. An FYI for folks — this position is one you see evidence of all the time, but don't pay much attention to it — you see Commissioner of Labor's signature on the elevator as part of its safety certification. Obviously that's a tiny aspect of this important position, but hey, it's late in the day and I'm getting punchy.
4:05: Netroots favorite, U.S. Congressman Brad Miller (left), is here today. Great start to the speech, noting Republicans at all levels have "ruined everything they've touched." He brought up "the mortgages that should not have been made" because of the Bush administration being in the tank with business, those businesses who have caused the mortgage meltdown. Daniel Johnson's brother came to speak on behalf of the Navy hero and 10th District candidate, who is doing really well against corrupt, scandal-ridden, closet-case sleazeball Patrick McHenry (right photo).
Just a note that later this evening is the Sanford-Hunt dinner.