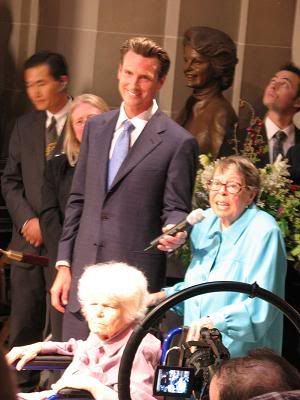 Gavin Newsom with Del Martin and Phyllis Lyon. Pix by Brad Luna, HRC
There's nothing like sharing in the joy — and saying you remember the day when…
Feel free to gab in the Chat Room while you watch it live on CBS 5.
* In West Hollywood Park, actor George Takei and his partner Brad Altman will be among the first to get their license.
* I just received an update from Brad Luna of HRC who is in San Francisco, where the Phelps crew is doing it in style.
Trevor Thomas, HRC's Dep Comm Director, and I just made it inside into city hall. We are standing outside of Mayor Newsom's office. At the entrance to the building 15 anti-gay protestors doing their normal nutty stuff. Signs reading "Homo sex is a greater threat than terrorism" and "Stop Homo Marriage". Inside, there is a huge gaggle of media. Trevor counted 20 tv cameras and probably 50 other press – all surrounding a staged off area with a wedding cake where Del and Phyllis will come after their ceremony to cut the cake. All this happening one floor up, directly above a newly dedicated statue of Harvey Milk. What a day!
* Updates from Brad Luna:
8:29 PM: Mayor Newsom delivering remarks. "An extraordinary day, celebrating an extraordinary couple who have fought so long for the right that so many of us, quite honestly, take for granted. Today, the institution of marriage has been strengthened.".

Del and Phyllis are cutting the cake!

8:48 PM: I just walked outside of City Hall. As I rounded the corner and came out the glass door, I saw a crowd of probably 500-700 people outside. Wow, what a celebration! As every couple walks outside a loud cheer goes up and a band strikes up, "going to the chapel and we're gonna get married."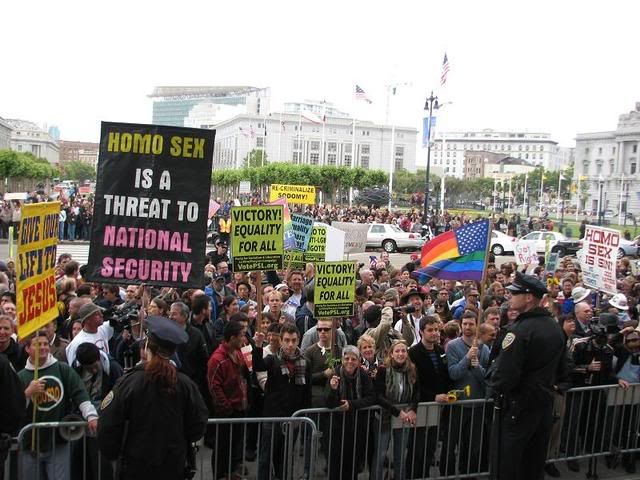 The crazies are outnumbered by those celebrating equality.