Today, Robert P. @ BlueNC has a diary up, "Neal vs. Hagan on Iraq: You vs. DSCC" (please rec the DKos diary).
There has been much written about this race. Jim Neal is a successful businessman with progressive ideals who is willing to fight for what he believes. Kay Hagan is a corporate Democrat that is most famous in North Carolina for proposing a budget that cut Medicaid to the blind, elderly, and seniors while also cutting taxes for corporations and citizens making over $250,000. However, the DSCC has decided that Kay Hagan is their candidate.

…The following is a rough transcript of a forum that took place recently in North Carolina. You can listen to the whole thing here, I'm not hiding anything. These are the relevant passages I believe.

Question: If you had to deal with President McCain, how would you deal with that and implement some different Iraq policy:

Neal: "Any of us up here will do a hell of lot better job than Senator Dole. With respect to Iraq, this is one thing that distinguishes me….I will not vote for any further funding for the war until such time as the administration has come to the Congress and has a discussion where the order is given to bring our trips home orderly and quickly. I can't tell you how long it will take…"

Hagan: "First of all, I would never use the funding of the military as a political tool to not fund the military. However, I think what I would do is hold hearings after hearings after hearings."
Yes, this is the candidate of the self-proclaimed "neutral" DSCC that has this up on its website — does this look like Schumer & Co. are favoring one candidate over the others? All the news seems to be about Kay Hagan. See the interesting screenshot below the fold.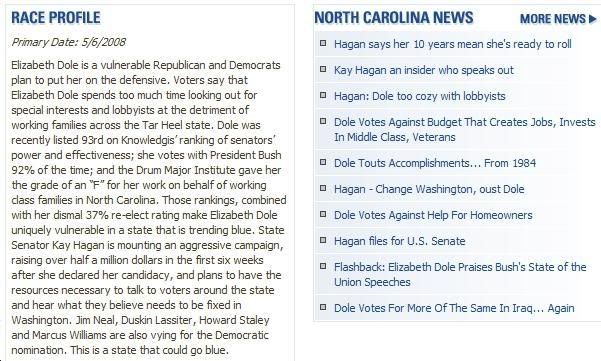 Not to mention Kay Hagan is wrong on FISA (she would have voted for Telco immunity); It's no surprise that, Kay Hagan refuses to appear at a TV debate in Durham on WTVD. You'd think that in a race where you've outspent your opponent (Neal) by a boatload and you are still tied at 20% in some polls, you'd want to reach as many undecided voters by going on television to introduce yourself to them and show how you'd be a better senator than Elizabeth Dole. Then again, I made the incorrect assumption that she would actually answer a question from a prospective constituent how she would vote on specific legislation that she would face if elected. Big mistake.
Mark Binker of the Greensboro News & Record on a key difference in Jim Neal's campaign and Hagan's:
Staff. Hagan and Neal have a blend of professional and volunteer staff that organize meet-and-greets, run the website, spin reporters, network, fundraise and do all the grunt work of a campaign.

The other three have some of that, but their organizations are a relative handful of folks with relatively little experience in this kind of fight. Hagan is rolling with DSCC-vetted staffers and Neal has hired an outside consultant with experience running "outsider" campaigns.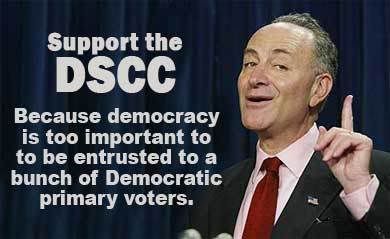 (via Howie Klein)
Related:

* NC: U.S. Senate candidate Kay Hagan refuses to answer basic questions about LGBT legislation

* Jim Neal's campaign web site

* Blend files on Jim Neal

* Jim Neal stuns James Carville into silence at NC Young Democrats event

* DSCC's Chuck Schumer is staying neutral on the N.C. Senate race – NOT